December 4, 2022
Walter gets a live update from Keith in North Pole, Alaska about his ongoing Christmas lights issue.
We get an update on the niece of former New Jersey Governor Chris Christie after she was kicked off an airplane and arrested.
Walter is taking charge of getting the Christmas tree this year.
Chef Drew returns with an update on his adventures on a superyacht.
Walter has some sound advice on how to handle the office Christmas party.
Thoughts on public television.
It's Motown Monday!!
LEST WE FORGET:
DR. DAVE'S NATIONAL WEATHER FORECAST
LESBIANS IN SPACE
FLORIDA STORIES
VIC FERRARI'S TRUE NYPD STORIES
PEOPLE OF WALMART
STRIPPERS ON THE LOOSE
BECKY AND DAN GAFFNEY'S ONGOING ADVENTURES WITH AN OLD HOUSE AND EIGHT KIDS
November 27, 2022
Walter explains why Aunt Martha was never allowed to come to Thanksgiving dinner.
Keeping the turkey moist and what everyone loves at the meal every time.
Walter talks with Tim Fury about bitcoin and whether or not Walter should get a conceal-carry permit.
Replace your own lawn mower blade with one you made!
Walter shares the drama of his first big radio Thanksgiving promotion, and how it was saved.
And the worst things you can do at work
THE FEATURES YOU LOVE:
DR. DAVE'S NATIONAL WEATHER FORECAST
FLORIDA STORIES
VIC FERRARI'S TRUE NYPD STORIES
PEOPLE OF WALMART
STRIPPERS ON THE LOOSE
BECKY AND DAN GAFFNEY'S CONTINUING ADVENTURES WITH EIGHT KIDS AND A 150-YEAR-OLD HOUSE
November 20, 2022
Live from the Sewing Room in Delaware, it's Becky and Dan Gaffney hosting for Walter M. Sterling.
They ask if you would eat a lab-grown chicken.
Becky and Dan talk about the Gaffney Thanksgiving.
They speak with Keith from  North Pole, Alaska and the latest on his Christmas lights.
The advantages of toilet paper over a box of tissue with eight sick kids.
Mass consumerism and why the Gaffneys do not have a TV
Dan questions the pronunciation of the nation "Quatar" as "cutter" and non-alcoholic beer at the FIFA Games.
Does elderberry have any healing properties and why returning to the office is a good thing.
Where are you and what are you doing?
Choose Your News
DON'T FORGET:
DR. DAVE EISER'S NATIONAL WEATHER FORECAST
FLORIDA STORIES
PEOPLE OF WALMART
STRIPPERS ON THE LOOSE
VIC FERRARI'S TRUE NYPD STORIES
THE DRIVE-THRU BREW
November 13, 2022
Walter talks with Keith, a Door Dash driver who lives in North Pole, Alaska, and has a very unique problem.
He shares actress Sydney Sweeney's concerns about screen shots from her nude scenes in TV shows. And how trolls are sending them to her relatives.
Walter revels in the glory of the butcher shops of New York City.
He is concerned about what news people think news is, and why it never correlates with the news that Walter believes is important.
And another visit with super yacht Chef Drew.
THE USUAL FEATURES OF COURSE:
DR. DAVE'S NATIONAL WEATHER FORECAST
FLORIDA STORIES
PEOPLE OF WALMART
STRIPPERS ON THE LOOSE
BECKY AND DAN GAFFNEY'S ADVENTURES IN AN OLD HOUSE WITH EIGHT KIDS
VIC FERRARI'S TRUE NYPD STORIES
BRAD THE OLD FASHION TALK HOST
November 6, 2022
Walter laments that he did not hit the big weekend lottery. But he has definite ideas about what he would do if he won the money.
He shares two ways NOT to get fired.
Walter speaks with entrepreneur Kimberly Stone about starting your own business.
This was a big marathon weekend around the country. Walter does not want to hear any gripes about running in bad weather.
He ponders internet chatter about whether or not Brittany Spears is making new videos, or re-releasing old ones.
Walter chats with his new favorite author Thea Landen. She writes about science fiction mixed with erotica.
He shares his questions over the death of pop star Aaron Carter.
Walter shares his new discovery about cheese graters.
Superyacht Chef Drew returns for a visit.
AND THE FEATURES YOU KNOW AND LOVE:
DR. DAVE'S NATIONAL WEATHER FORECAST
FLORIDA STORIES
BECKY AND DAN GAFFNEY'S ADVENTURES WITH AN OLD HOUSE AND EIGHT KIDS
THE PEOPLE OF WALMART
STRIPPERS ON THE LOOSE
THE DRIVE-THRU BREW
LESBIANS IN SPACE
VIC FERRARI'S TRUE NYPD STORIES
BRAD THE OLD FASHION TALK SHOW HOST
October 30, 2022
Walter shares thoughts on new revealing photos of Madonna and Britney Spears.
He airs frustration over the fact that he cannot turn off computer notification sounds when he is on the air.
Walter burrows deeply into his inner self to share the curse of his life, and how he has dealt with it.
We hear about people who suffered when GPS went very wrong.
Is swimming racist?
Tips for buying a large Christmas tree.
Chef Drew is back with more yacht stories.
Walter offers tips for behaving like an adult on Halloween.
The secret of great hamburger and corned beef.
AND YOUR USUAL FAVORITES:
DR. DAVE'S NATIONAL WEATHER
FLORIDA STORIES
DRIVE-THRU-BREW HALLOWEEN SPECIAL
BECKY AND DAN GAFFNEY'S ADVENTURES WITH AN OLD HOUSE AND EIGHT KIDS
THE PEOPLE OF WALMART
VIC FERRARI'S TRUE NYPD STORIES
STRIPPERS ON THE LOOSE
BRAD THE OLD FASHION TALK SHOW HOST
October 23, 2022
Walter ponders the celebration of Halloween at the high school independent study, where costumes must comply with the "dignity framework."
Walter passes along what he considers disturbing news about American Airlines. He shares a tip on how to upgrade your airline seat.
He laments that co-workers no longer get together at the bar after work, and the hazards of instead sharing work frustrations on social media.
Walter shares his experience of being thrown out of hotels.
He wonders aloud if any of the funny bits on Sterling on Sunday could somehow be converted into animation.
The joys of shopping alone.
And we hear from a lesbian band.
PLUS THE USUAL STUFF:
DR. DAVE'S NATIONAL WEATHER FORECAST
FLORIDA STORIES
STRIPPERS ON THE LOOSE
THE PEOPLE OF WALMART
BECKY AND DAN GAFFNEY'S STORIES ABOUT AN OLD HOUSE AND EIGHT KIDS
THE DRIVE-THRU BREW
VIC FERRARI'S TRUE NYPD STORIES
October 16, 2022
Walter talks about how he spent date nights when he was single.
We marvel at the major guest stars who appeared on the TV show Falcon Crest.
Walter shares concerns about truck drivers and marijuana use.
We visit a Haunted Airplane for Halloween.
What would we tell our 17-year-old self?
Where are the best bagels? We'll find out!
AND THE USUAL FEATURES:
FLORIDA STORIES
DRIVE-THRU BREW
STRIPPERS ON THE LOOSE
THE PEOPLE OF WALMART.
DAN AND BECKY GAFFNEY'S OLD HOUSE AND EIGHT KIDS STORIES
VIC FERRARI'S TRUE NYPD STORIES
BRAD THE OLD FASHION TALK HOST
October 9, 2022
Walter shares the effects of a Full Pink Moon as told by Astrologer Rose Smith.
We learn that frozen chicken nuggets from Walmart are the greatest invention ever.
Walter shares a great way to navigate Walmart isles, and the glories of the tram at airports.
He talks about the horrors of spending a high school homecoming dance in a plastic bubble.
Walter welcomes Chef Drew back to the show with more stories about life on a super yacht.
AND THE GREAT FEATURES:
FLORIDA STORIES
STRIPPERS ON THE LOOSE
THE PEOPLE OF WALMART
DAN GAFFNEY AND HIS ADVENTURES WITH EIGHT KIDS AND A 150-YEAR-OLD HOUSE
VIC FERRARI'S POLICE STORIES
BRAD THE OLD FASHION TALK SHOW HOST
October 2, 2022
Walter updates you on the aftermath of Hurricane Ian, and talks to Jay Clark in Sebring, Florida. Clark is a programmer at the local radio station.
Walter is no fan of self-check-out at Wal Mart, and offers a tip on checking out faster.
He shares the horrors of the pumpkin patch, corn maze, and pick-your-own apples locations…especially with a nine-year-old.
Walter spotlights a very suspicious poker win from a novice to the game.
And we learn that Walter does not have a "Finnigan Face."
Of course, as always, the features that Walter is famous for:
FLORIDA STORIES
STRIPPERS ON THE LOOSE
THE PEOPLE OF WALMART
DAN GAFFNEY'S OLD HOUSE AND EIGHT KIDS CHALLENGES
VIC FERRARI'S POLICE STORIES
BRAD THE OLD FASHION RADIO HOST
September 25, 2022
Walter wonders why Top 40 radio stations are not playing songs by Sitting on Stacy.
He notes the beginning of Autumn when the leaf blowers come out, and talks about why they are loud.
Walter discusses the difference between a "Heavenly Walmart" and a "random Walmart." And he looks at the trials of steam heat.
He notes that Mercury remains in retrograde, and it is continuing to cause minor problems in major numbers.
Walter notes the terror of the wave pool.
PLUS:
FLORIDA STORIES
STRIPPERS ON THE LOOSE
THE PEOPLE OF WALMART
DAN GAFFNEY'S ADVENTURES WITH AN OLD HOUSE AND EIGHT KIDS
BRAD THE OLD FASHION TALK SHOW HOST
September 18, 2022
Walter says that Mercury continues in retrograde, leading to many minor problems that pile up. That includes a broken dryer in the laundry room, and wet clothes hanging everywhere.
We get an update on flooding in Alaska, and the horrible ratings for the Emmy Awards.
Walter hates Adele like he hates street fairs.
We hear audio from Weather Channel Founder Ron Coleman, who says there is no global warming.
Walter congratulates 75-year-old Wheel of Fortune Host Pat Sajak, who is seeing a young Republican congresswoman. Ideology does not seem to be a factor.
PLUS:
FLORIDA STORIES
STRIPPERS ON THE LOOSE
PEOPLE OF WALMART
THE DRIVE THRU BREW
VIC FERRARI'S TRUE POLICE STORIES
BRAD THE OLD FASHION TALK HOST
September 11, 2022
In a reflection of the events of September 11, 2001, Walter recalls his time in Lower Manhattan on that horrible day.
Walter remembers his good friends Jim Paul and Patrick Brown who died.
He answers the question about why fighter jets did not scramble after the three aircraft were hijacked, and plays a disturbing audio clip to prove the point.
Walter shares what he saw and heard after the planes hit the World Trade Center.
September 4, 2022
It's Labor Day Weekend, and Walter shares all the reasons why he is glad summer is finally over.
He explains why he is the last person to ever go swimming in the lake. He finds floating docks and lake bottoms objects of terror.
Walter admits Memorial Day, the Fourth of July, and Labor Day are terrorizing holidays, because you must be invited to take part in holiday activities.
He talks about "quiet quitting", and why no one wants to go back to the office to work.
Walter talks with Drew, a chef on a super yacht, about the very wealthy people who ride on such boats. He asks Drew about good places to hide if he does not wish to associate with the other passengers.
And the usual features:
FLORIDA STORIES
STRIPPERS ON THE LOOSE
THE PEOPLE OF WALMART

August 28, 2022
August 21, 2022
Walter went on vacation with all of his in laws. All of them are drunk and rich.
Next Walter welcomes JAMES COPELAND who explains the WSPR network and how it might find the MALAYSIA airlines flight…by whispering.
Then PUGS AND PARKER discuss the horrors of HOME OWNERS ASSOCIATIONS.
listen and secrets will be revealed.
August 7, 2022
July 24, 2022
Weird totems of corporate power. Walter meets with a CEO who must eat GUMMY BEARS during big meetings and wears shorts to the office.
Walter tells the story of the RED PHONE ploy he used to spook other execs at NBC into thinking Walter had been promoted.LISTEN!
Masturbation isn't cheating. You cannot cheat by yourself! High gas prices makes Dash deliveries uneconomical. Movie star Armie Hammer cut off from family fortune.
PLUS
Our award winning features
THE DRIVE THRU BREW
STRIPPERS ON THE LOOSE
TRUE DETECTIVE STORIES
FLORIDA STORIES
Write your comments to WALTERMSTERLING@GMAILCOM
July 10, 2022
June 26, 2022
HOT SHOW featuring demanding topics and these beautifully produced features:
DRIVE THRU BREW
BRAD FROM THE 70'S
STRIPPERS ON THE LOOSE
MORE……BE SURE TO SUBSCRIBE
May 29, 2022
MEMORIAL DAY
Walter discusses the solitude of the three day weekend and the challenge of the BBQ.  At the end of the third hour he shares a speech performed by ADRIAN CRONAER the DJ who was the model for GOOD MORNING VIET NAM.  PLUS
STRIPPERS ON THE LOOSE
DRIVE THRU BREW
THE USUAL EDITION
VIC FERRARIS TRUE TALES OF TRUE COPS
FLORIDA STORIES FROM JAMES PARKER
May 22, 2022
CUTTING EDGE RADIO. LIVE ON SUNDAY NIGHT!!!
How women can grow their breasts.  The monkey returns and boy is he annoyed.  Siberia has Jesus—a new Jesus is taking over Siberia!  Gas is 14 dollars a gallon in Alaska!!  PLUS
THREE EPISODES OF FLORIDA STORIES
THE USUAL EDITION
STRIPERS ON THE LOOSE
RETIRED COP STORIES
May 15, 2022
TRANSGENDER CANDOR.  An exclusive interview with Rebecca Haff who was born a man and is now a transgender female radio host from NEW ORLEANS. WOW. She reveals….how she buys clothes… what it's like to work in radio as a woman…. and do people mock her. The answers will shock you. James Parker the creator FLORIDA STORIES put together this compelling conversation!
May 8, 2022
MOTHER'S DAY and Walter beats Freud by declaring that the reason you are uncomfortable with you mother is that you have done bad things but have failed to confess them to your mother before she died.  Walter then explains the strange cultural dynamics of JERSEY MOMs and how they are in charge of all situations and the Dads are told to sit in the corner and read the TRENTONIAN.  3 HOURS OF NON STOP FUN!!!!
PRODUCED BY JAMES COPELAND
April 24, 2022
WE CELEBRATE the high holy days of the Greek Orthodox year. A day that witnessed a 1 month old and her mother murdered in Ukraine. Next we cover all the hot entertainment news: Jonny Depp, Amber Heard, it's all here.  PLUS
Plus our award winning produced, scripted series:
THE USUAL EDITION A PARODY OF PUBLIC RADIO
STRIPPERS ON THE LOOSE—SELF EXPLANATORY
VIC FERRARI, RETIRED COP STORIES
April 17, 2022
WALTER explains why HAIM is better than Bono—by a lot.  Next he reviews the insanity of the Amber Heard / Johnny Depp Fiasco.
Plus comedic drama from our troupe.
THE DRIVE THRU BREW
VIC FERRARI'S COP STORIES
FLORIDA STORIES
STRIPPERS ON THE LOOSE
LESBIANS IN SPACE
It's all here for you!
April 10, 2022
The misfits go wild for the conversation with retired NYPD detective VIC FERRARI who explains that sex between officers is nothing new—even though it is against the rules!!! Next Walter discusses Easter is a wild holiday; no rules. Then we discussed the Opioid rules changing at the CDC.
PLUS
THE USUAL EDITION
DRIVE THRU BREW
VELO HOULE STRIPPERS ON THE LOOSE
POLICE STORIES
FLORIDA STORIES
April 3, 2022
Our show continues to grow in influence and audience. We start with an update on the Grammys and review our show rites to only two award winners including a foreign language hit from the past FELECIDAD.  Next we discuss how Billie Eillish' dress looked like a Halloween costume depicting the SMOKE MONSTER from LOST. KILLER!  Then in a LIVE EXCLUSIVE Andre Dorodinski in Ukraine shares the truth about his horrors… "Russians bomb all night every night this is not a police action this is war"
PLUS THE STERLING ON SUNDAY circus performers:
JAMES PARKER'S FLORIDA STORIES
BRAD'S OLD FASHIONED TALK SHOW
VIC FERRARI RETIRED NYPD DETECTIVE STORIES
LESBIANS IN SPACE
VELO HOULE STUDYING STRIPPERS ON THE LOOSE
March 27, 2022
OSCAR NIGHT!  Plus an report from the ground of UKRAINE from a citizen who is being bombed while on the phone with us LIVE!
March 20, 2022
WALTER reveals Coast to Coast that he does things as hard as possible. If it can be done easily, he will do it with great difficulty. Next James Copeland from the La Paz County Fair in Arizona reveals that carnies sleep behind their game stands "there is a whole world right behind the stands!"  Next Walter launches into stories of Spring Break. He was never allowed to go on Spring Break.  Were you?
THEN Walter shares that when in a deep depression he just has to think about the band HAIM and ALANA HAIM and all is well.
NEXT the crud who run the credit services will be cutting MILLIONS of questionable responds on YOUR file. Much more but ya gotta listen
Plus our high demand vignettes:
THE USUAL EDITION
FLORIDA STORIES
STRIPPERS ON THE LOOSE
VIC FERRARIS COP STORIES
LESBIANS IN SPACE
March 6, 2022
HOYT YEATMMAN IS THE LEAD SINGER OF SITTING ON STACY AND HE ENDORSES STERLING ON SUNDAY. HEAR HIM CHAT WITH WALTER AT THE BEGINNING OF THIS HOUR. NEXT HEAR WALTER TALK ENDLESSLY ABOUT THE BAND HAIM,  THEN IT ALL FALLS APART. FABULOUS.
Plus a brand new feature…STRIPPERS ON THE LOOSE!!!!
February 27, 2022
Big show. Walter reveals that his grandfather was born in Ukraine. He discusses the that his grandfather was born there. They don't have to deal with CRITICAL RACE THEORY in UKRAINE they have to manage injured and dead children.
Walter interviewed street smart Sam Liebman about his knowledge of the street and how to build actual wealth.  Next Jill Brook revealed the origins of Russian sunflowers in Ukraine and their symbolism
Finally Walter obsesses over Alana Haim and her story telling ability. Hysterical.
PLUS Four episodes of FLORIDA STORIES.  It's all here my friend!!!!!!
February 20, 2022
Sterling is the only live network radio show on Sunday nights. In this recording hear Walter reveal that there are 19 states that allow corporal punishment of kids in school but no state allows corporal punishment of prisoners.  Plus over 400 FAMILY DOLLAR STORES CLOSED BECAUSE OF GIANT RATS IN THEIR distribution centers!
PLUS
THE USUAL EDITION
VELO HOULE
VIC FERRARI
AND FLORIDA STORIES
It's all here. Download and please COMMENT.
February 13, 2022
BIG GAME SHOW. WALTER gives tips on hunting tigers and lions and other big game. Plus wonderful audio from wonderful women who might be Lesbians.   Plus he over-sells his love of the new movie LICORICE PIZZA. Plus brand new episodes of VELO HOULE, THE USUAL EDITION, AND VIC FERRARI COP STORIES. ALL FOR YOU!!!
February 6, 2022
WALTER explores the depth of stupidity. First, a town that says mountain lions roam its streets—therefore the town should not have to adhere to rules about single family homes. Confusing, yes, but rich people are often confusing. In hour number 2 we hear from Jill Brook on how to buy flowers for you wedding so you don't waste a fortune and look like a jerk.  Her site is www.flowerpowerdaily.com. NEXT Walter and his 9 year old review STORAGE WARS. The kid is very perceptive. PLUS
DRIVE THRU BREW
THE USUAL EDITION
VELO HOULE REVIEWS OAK ISLAND
DUNE. REALLY?
VIC FERRARI COP STORIES
Email Walter at Waltermsterling@gmail.com and download the podcast at MIDNITE MISFITS from APPLE ITUNES.
January 30, 2022
Walter explains the secrets of CONET STATIONS with Mike Turner of Club Gear Online. Then he goes deep deep into so much more. Why is STORAGE WARS a hit?
PLUS THE USUAL EDITION, DRIVE THROUGH BREW, VIC FERRARI'S COP STORIES AND MORE!!
January 23, 2022
PEDRO LOMONACO, PHD at OREGON STATE reveals a once in one thousand year event off the coast of Australia. TWO underwater volcanos exploded last weekend. The shock waves circled the earth at 675 miles per hour and made our atmosphere "ring like a bell". YET only STERLING ON SUNDAY covers this astonishing, real event.
PLUS a MALE INSTAGRAM star claims a female star was sexually inappropriate with him on multiple occasions. Plus TOP FEATURES like THE USUAL EDITION, FLORIDA STORIES!! and much more. No fluff here.
January 9, 2022
COLD WEATHER! Walter says Elizabeth Holmes is INNOCENT!  There is life after death according to Mike Hambrick.
PLUS old fashioned talk radio.
There is PRETTY PRIVILEGE and Walter thinks it's just fine!
December 26, 2021
STERLING ON SUNDAY celebrates the holiday. Walter reveals that the greatest SELF CARE gift a parent can give themselves is PAY FOR ASSEMBLY. Every penny worth it!!!  Next, Walter tells his best story: Stay on ROME for New Years Eve with a sure-thing date, or use the AWARD first class ticket, seat 1B to fly home on New Years eve! Then Walter starts his series on how to re-design your life at any age. PLUS
FLORIDA STORIES
DRIVE-THRU BREW
THE CURSE OF OAK ISLAND
and more hilarity
December 19, 2021
STERLING ON SUNDAY GREAT FOR YOUR SUNDAY LINE UP! IT'S LIVE, IT HAS A PODCAST!
Here's what we put on the radio stage this week:
• Walter talked about the annoying traditions of other families. Do you hand out the gifts all at once or
go through the worthless, time consuming process of gift after gift to kid after kid?
• Next ADULTING. WALTER believes Adulting starts on the first Christmas your spend completely away from home.
Walter's was at 17 when he spent all of Christmas dat at a radio station—working.
PLUS award winning winning production:
THE TWELVE DAYS OF CHRISTMAS IN A BEER BARN!
ADVANCED MANAGEMENT IN A BEER BARN
HILARITY ENSUES! PLUS
VIC FERARI REVEALS THE SECRETS OF THE NYPD DETECTIVE UNITS
PLUS MORE THAN I CAN REMEMBER!!
December 12, 2021
ADULTING starts the first Christmas day that you are not at home.  You're out in the world on Christmas day.  Walter's first ADULTING day was when he worked at WCRV in Washington Borough New Jersey ALL DAY. He signed on the station and signed it off.  He forgot that there would be no heat in the building!
Our guest? Atalanta – a bone thrower!!
Plus FLORIDA STORIES, VIC FERARIS COP STORIES, VELO HOULE AND THE MYSTERIES OF OAK ISLAND PLUS MUCH MORE HIGH QUALITY
PRODUCTION.
STERLING ON SUNDAY is the show!!
December 5, 2021
November 28, 2021
November 21, 2021
Huge Thanksgiving show! Walter tells the true story of working at a radio station where 100 frozen turkeys were delivered to prize winners rather than gift certificates!
November 14, 2021
A FESTIVAL OF CONVERSATIONS.  FIRST…..Hoyt Yeatman lead singer and founder of Sitting on Stacy reveals the day in the life of a SOCAL rock star.
Next, STEVE TYRELL MASTER of the great American song book.  He was the singer in the Steve Martin movie FATHER OF THE BRIDE. Then the greatest guest in radio history—DR STEPHANIE OSBORN who revealed if there was human sex in space.  Then Emily the chief chef of CLARITY.com the maker of premium CBD yummies.  Made possible by MY PILLOW.
November 7, 2021
THIS WEEK'S SHOW features all the latest gossip!  We have FLORIDA STORIES, a bizarre episode of ANCIENT ALIENS. Great cop stories from Vic Ferrari and the strange case of Emily Ratajkowski who got millions from a fugitive but he was just a boyfriend.
October 31, 2021
Walter thinks that the Alec Baldwin movie set accident was tragic but our reaction is more tragic. Where is the formal police investigation? Secure the crime scene!  Next Walter thinks Halloween for adults is pathetic, it's for 9 year-olds.   Then Walter reveals that he baked a knish from scratch and all are happy!
October 24, 2021
October 17, 2021
FANTASTIC SHOW. First Walter shares why you should never have a pool party in your apartment in a high rise building. Next Walter why truck drivers should earn a minimum of 100,000 yearly.
PLUS THREE episodes of FLORIDA STORIES from James Parker
TRUE CRIME from VIC FERRARI
LESBIANS IN SPACE
VELO HOULE'S FISHING REPORT
Be sure to go to MYPILLOW.COM and find the deepest discount ever for a MY PILLOW use promo code WALTER
September 27, 2021
An exciting show featuring our benchmark features: UNDERCOVER BOSS,  NATIONAL WEATHER, THE FISH REPORT, VIC FERRARI'S COP STORIES. PLUS FLORIDA STORIES -2 EPISODES.  Walter explains that we really shouldn't' go back to work.
September 12, 2021
August 29, 2021
METEOROLOGIST DR. DAVE EISER offers constant updates on hurricane Ida.  James Parker in New Orleans shares feet on the ground coverage from his door step. Other content:  PATRIC RICHARDSON The Laundry Guru shares how to really do laundry. Bruce the Lawyer shares when divorce rates peak—after little league season.  FLORIDA STORIES from James Parker. UNDERCOVER MEDIA BOSS goes deep, deep into the bowels of local TV. Vic Ferrari has a rookie COP STORY—about a horse. VELO HOULE, de-worm your fish! DREW drives for GRUBHUB in Vegas and reveals that most orders are tiny. Walter rants about the horror of public school PE and the stunning win of TREVOR LAWRENCE.
August 15, 2021
Walter reveals that only Americans take vacations by packing tiny cars to the brim and driving as far as possible and then staying in place for one week.  In other countries they actually take vacations—for months!
August 8, 2021
WALTER STARTS by talking to a man who owns a decommissioned nuclear missile silo.  Next he talks with a Grubhub driver. Who tips the most? Then financial whiz Jared Dillian explains why Jeff Bezos HAD to get a divorce.  Walter then espouses many theories. Plus a should out to many Midnite Misfits.
August 1, 2021
Walter explains that the truly successful people are often unpleasant. Yet our culture wants workers to waste time being very pleasant or they get fired. This kills new ideas and the implementation of new ideas. Next James Copeland reveals the AirBnb where he works… a missile silo. He gives us the rundown.
Hour two features MIKE ROTHSMITH who wrote BOMBSHELL The book is a best seller around the word the reveals
who he believes who ordered the murder of Marilyn Monroe —it's shocking. Vic Ferrari a retired NYPD detective joins the conversation—real cop talk not some lame podcast.  In the third hour we explore the life of a misfit including the astonishing career of LAURA NYRO.
PLUS
THE USUAL EDITION—MALL THINGS CONSIDERED
FLORIDA STORIES FROM JAMES PARKER
THE FISHING REPORT FROM VELO HOULE
WEATHER FROM DR DAVE.
IT'S A REAL RADIO SHOW, A MORNING SHOW AT MIDNITE.
July 25, 2021
UNDERCOVER MEDIA BOSS! Discover what happens when a Media boss goes undercover to learn what his workers go through when their expense accounts are cut.  Then Walter reviews the time waster—the Cleveland Indians change their names and their owners are in mourning. Then Walter reveals the real reason people don't want to go back to work…they don't want to cope with HR! IN PERSON.  Plus Walter has spectacular production:
THE DRIVE THRU BREW
VIC FERRARI'S COP STORIES
PLUS TWO FLORIDA STORIES FROM JAMES PARKER
Listen to the podcast MIDNITE MISFIT with fresh content!
July 18, 2021
Britney Spears delivers the greatest threat to her enemies: "I hope they step on Legos."   And Olivia Wilde has left her children for Harry Sykes because Harry has a big penis.  Then Walter talks about his sister in law….it's all here.
July 11, 2021
July 4, 2021
BRAND NEW SHOW ON THE FOURTH OF JULY. If you can find another live radio show on the Fourth of July, buy it! Walter explains the star appeal of WHITTEY18 on Instagram. Then he explains how this extraordinary show is assembled and thanks the talent: James Copeland, Randy Thomas, Charlie Van Dyke, Charles Van Sant, JJ Wilson, Jerry DiCairano, James Parker, Vic Ferrari, Peter Thiele, Dr. Dave Eiser. THANK YOU cast, you're fantastic!
June 27, 2021
Walter provides a DEEP PROBE of the Brittney Spears situation. Her father's qualification to be the conservator of 60 million dollars? He was a short order cook.
Next we hear our benchmark features: THE USUAL EDITION, Drive Thru brew, Vic Ferrari's Cop Stories, and Velo Houle explains how to care for your tropical fish when you're on vacation PLUS 2 episodes of FLORIDA STORIES!  PLUS Walter offers up this picture to die-hard fans that reveals the new lighting in the studio!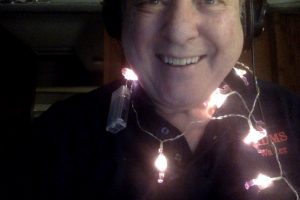 June 20, 2021
Welcome! Walter asks what your father said over and over that you can not forget. Plus 3 hours of bad dad jokes.  And Gary R'Nel discusses his MIDNITE MISFIT role as a Jersey Dad.  Plus new editions of DRIVE THRU BREW, THE USUAL EDITION, VELO HOULE SELLS GUPPIES—a first!!! And Vic Ferrari shares  a NYPD cop story.
June 13, 2021
Walter explains that things are never what they seem. He was at a big business meeting and realized that he looked like a homeless person.
Limping, no crease pants, unshaven because the hotel had not hot water, all bad. Next he shares the overall horror of being at a "radio" convention.
Plus our benchmark features: THE DRIVE THRU BREW, VIC FERRARI COP STORIES AND FLORIDA STORIES FROM JAMES PARKER. Click on the Florida Stories tab above for more details about FLORIDA STORIES. And music discovery, Walter shares his love of the group SITTING ON STACY.
SUBSCRIBE OUR PODCAST: Midnite Misfits.
Thanks for listening!
June 6, 2021
WALTER INTRODUCES JAMES THE URBER DRIVER. A brand new contributor to SOS!  Then enjoy pride month. Walter reveals his gay crush—David Cassidy and ask who yours is!  6 episodes of LESBIANS in Space. Plus the USUAL EDITION, DRIVE THRU BREW, VELO HOULE, VIC FERRARI AND YOU. Fantastic show!!
May 30, 2021
VOTED BEST EPISODE OF STERLING ON SUNDAY
The Festival of Lights®. Everyone is certainly excited. Hear massive tech errors plus the DRIVE THRU BREW, THE USUAL EDITION, VIC FERRARI AND SO MUCH MORE. And James Copeland reveals his secret place of employment… a missile silo!
May 16, 2021
Walter reveals that his favorite food is ORANGE HOSTESS CUPCAKES. Then Snaking Bacon from Dunkin Donuts.  Misfits reveal their favorites!
May 9, 2021
Mothers from around the world call in to reveal things their mothers told them that they cannot forget. Good and bad! Then Walter discussed the POWERS of New Jersey moms. They have remarkable secret powers. Listen to this amazing show. CALLER DRIVEN!!!  Meters served!!!!
May 2, 2021
Detective Vic Ferrari answers Walter's questions about being stopped by a cop who thought Walter was drunk. Walter doesn't drink—at all!!! Then Michael Harrison reveals what it's like to join rock legends in GUNHILL ROAD. Walter evokes DEAD TALK SHOW HOSTS.  LATER Walter gives a secret, coded message to MIDNITE MISFITS. Hear the whole show! Hear the MIDNITE MISFIT PODCAST at APPLE iTUNES!!!
April 25, 2021
WALTER CELEBRATES HIS 20TH ANNIVERSARY IN A HOTEL ROOM WITH HIS WIFE POSTING WEDDING PICTURES ON FACEBOOK. NEXT, DEAD TALK SHOW HOSTS ARE INVOKED BY TALK OF WATER FLUORIDATION, PRETTY SPOOKY.
PLUS JILL BROOKE TALKS ENTREPRENEURSHIP. https://flowerpowerdaily.com/
April 18, 2021
The Usual Edition starring Rachel Goldstein Shabazz,
classic Florida stories starring James Parker,
life in the drive thru brew,
Cop stories from a real NYPD detective,
News about corned beef and cash,
Celebrating a new NASA with Lesbians in space
News from Oak Island …what was discovered?
Midnite Misfit news…the advantages of working the third shift.
and toll taker tumble podcast.
April 11, 2021
April 4, 2021
Walter reveals that different Easter traditions result in family WARS!
March 28, 2021
WALTER'S DAUGHTER DOROTHY IS QUARANTEND AGAIN AT SYRACUSE UNIVERSITY. IF SHE LEAVES HER ROOM SHE IS SUSPENDED FROM SCHOOL. STUPID. TRAUMATIC. NEXT WALTER TALKS WITH KIMBERLY HOLMES ABOUT celebrity marriages #jlopez #arod #olivia wilde
WHAT ARE THEY THINKING! NEXT WALTER REVEALS THE SONGS THAT MAKE HIM WANT TO SMOKE. NEXT THE SPRINGSTEEN SONGS THAT MAKE NO SENSE. A VERY FULL SHOW.
March 21, 2021
Walter realizes that when the future was projected, the promise of new tech was "more free time." Tragically there were no instructions about what to do with the free time. Walter reveals that what he does with free time is CLICK BAIT, CLUB PENGUIN and full series on NETFLIX. Next Walter wonders how did the OZEMPIC TV commercial actual come into being-again when he has too much free time.  Plus THE USUAL EDITION features the blending of a species: whales and dolphins, no more separation!  Listen to the whole show!
March 14, 2021
Walter reveals his exclusive secret report of what the external legal council found in the British monarchy's bullying behavior!
Next James Copeland explains why he is on a tiny station in Arizona while living at the owner's house. Walter demands answers.
Next THE USUAL EDITION reveal a secret sea monster that has only been heard but never seen. Hilarity ensues!
March 7, 2021
February 28, 2021
Walter's daughter, Dorothy reveals life in college during quarantine. Get this… she goes to school online, all of her classes, but she is sitting in her DORM. Insane.
Next James Copeland Reports from his Winnebago about his final thoughts on DOLLAR TREE employment.
PLUS THE USUAL EDITION
DRIVE THRU BREW
COP STORIES
VELO HOULE FISHING REPORT
The fastest growing show in network radio. Contact Walter at waltermsterling@gmail.com
February 21, 2021
Walter wants your feedback. A technically flawless show, that never happens! He discusses the challenges of finding a public restroom in the pandemic—all are closed.  He presents Debbie Gibson as demographically correct "bumper" music.  Walter reveals half the secret of Rush's success and memorializes him without talking politics—a win! Then he shares a stunning song that was number 1 around the world but not here.
Plus
DRIVE THRU BREW
FLORIDA STORIES
COP STORIES WITH VIC FERRARI
DR DAVE'S WEATHER
VELO HOULES FISH REPORT
February 14, 2021
February 7, 2021
BIG GAME, BIG SHOW. Walter celebrates the day by expressing his distaste for football and loud music.
He speculates that the football hero could get a better date. NO CALLS!  Then we learn about his first job in radio—he did the sound mix on high school football games on stations that signed off before the game was over. Next he discusses the horror of both his housing move, moving his cats and moving his daughter to school ALL THE SAME DAY.
PLUS
WEATHER 4 TIMES AN HOUR FOR THE ICE STORM.
The usual edition starring a blind reporter
DRIVE THRU BREW BREW
2 FLORIDA STORIES FROM JAMES PARKER.
VIC FERRARI Cop stories
Velo Houle with the fishing report.
January 24, 2021
WALTER IS FORCED TO MOVE.
MOVING IS HELL.
PLUS THE CAR STOPPED MOVING.
PLUS HE HAS TO DRIVE HIS DAUGHTER BACK TO SCHOOL.
NEXT..ARNIE HAMMER?
January 17, 2021
WALTER DELIVERS! First he reveals that moving to a new home is hell. Then DANCE CLASS. From 4-8th grade Walter took ballroom dancing and went to cotillions. Updates on the Daughter's health. Walter is loose in PARMA and discovers a new drive-thru brew. Then the horror of Olivia Wilde running off with Harry Styles—a man in pearls!!!   Plus awful phone calls.
THE DRIVE TRU BREW
PARMA PARMA PARMESIAN DINER
THE USUAL EDITION
FLORIDA STORIES—2 EPISODES
LESBIANS IN SPACE
VIC FERRARI COP STORIES
VELO HOULE FISHING REPORT
January 10, 2021
But WHY did the gang rush the Capital? Why are they that angry?  It is not actually because of Trump or racism. It's because every single day they have to chose between a quart and a  gallon of milk in Parma.  The divide in our country is not race but wealth. Plus Walter reviews the insanity of hospital bureaucracy dealing with his 18 year old. Next the horror of being actor Jason Sudeikis losing Olivia Wilde to a man wearing pearls and a dress. And the new weekly review of TOLLROAD NEWS.
PLUS PREMIUM PRODUCTION
The Drive Thru brew
Velo Houle's fishing report
Vic Ferrari's TALES OF THE NYPD
January 3, 2021
THE FRANK FACTOR.. its impact on you!!
December 27, 2020
Live from the Laundry Room!
December 20, 2020
A very Merry Christmas from Sterling on Sunday!
December 13, 2020
The third hour of the show… the most important part!
December 6, 2020
RADIO GEEK ALERT: Walter explains the miracle of how the show got on the air Sunday. Thank you Dave Skalish and the Entercom Philadelphia team.
Next Walter reveals his prime source of depression at the holidays, the ONE THING that makes him feel separated from the joy of the holidays. Then the worst child custody case ever—the Rockett teens thrown in jail because they refused to go "back" to their divorced mother.
Plus Walter wants to know what to do when his 18 year old wants to stay out all night with "the boy". PLUS THE USUAL EDITION RETURNS, DRIVE THRU BREW DECORATES, VIC FERRARI HAS A COP STORY. And oddly strange phone calls about CONET SIGNALS!
November 29, 2020
Walter says this was a spectacular show… It has it all.
A celebration of a no-relative Thanksgiving!
The top 5 FLORIDA STORIES from James Parker.
The Top 5 Drive-thru brew episodes produced by James Copeland.
The Top 5 Usual Edition Episode produced by James Copeland starring Jerry DiCairano.
Salute to KDKA with TJ Lubinski, a Pittsburgh person.
PLUS you on a Zoom Call ! It's all here. Other shows have nothing.
November 22, 2020
WIZARD JAMES has started working at Dollar Tree and reports that yes people do ask how much items are—even though they are all one dollar.
Then Walter says that the give Americans need is a suspension of dings to their credit reports until every one can go back to work.
Next Walter tells the AUNT MARTHA and his Mother story. Next he shares the story of 100 FROZEN turkeys delivered to a NYC Radio station as prizes!
Plus
FLORIDA STORIES
THE DRIVE THRU BREW
VELO HOULE'S FISHING REPORT
VIC FERRARI'S COP STORIES
UNDERCOVER MEDIA BOSS
WEATHER FROM DR. DAVE EISER
It's all here for you
November 15, 2020
BIG SHOW.  James Copeland in a Winnebago in Kansas is going to apply for a job at Dollar Tree.  Listeners call in with tips on how to get the job ! James and Walter debate which products should only be bought at Dollar Tree and which should not. Listeners share tips with James on how to get the job.  We love DOLLAR TREE.
We celebrate the 100th anniversary of radio on KDKA. Walter explains that he got his name from KDKA's Sterling Yates.
PLUS  a brand new feature: UNDERCOVER MEDIA BOSS!
We called out on the air for a brand new weather man and DR DAVE EISER will join us every week.. he used to be a weatherman on WLS TV!!!!
Excitement ensues.
November 8, 2020
Live from the Laundry Room!
November 1, 2020
Live from the Laundry Room!
October 25, 2020
Cooper Lawrence PHD believes that Celebrities do not help candidates for political office get elected.  She also believes they are horrible at running charities. Bob Geldof…disaster Oprah….disaster.  NEXT Walter talks about his daughter at college and her boyfriend was killed. Listeners share their thoughts about whether or not she should take a leave of absence.  Then Walter recommends and extraordinary 18 minute film on YouTube starring Ron Rifkin called Daddy. Watch it.
October 11, 2020
Live from the Laundry Room!
October 4, 2020
Live from the Laundry Room!
September 27, 2020:
We start the weekly adventure at the drive-thru brew. New Yorkers invading the beer barn, it's not a pretty sight.
Next we learn why Walter hates the pumpkin patch—it's the long con kids foist on their parents. The pumpkin patch is horrible and dangerous!
Then DAUGHTER DILEMMAS…the daughter is freaking out in college and we have found ways to keep her happy 5 hours away.
Next Walter shares WHY San Francisco is a mess and it isn't the Liberals it's the ghosts of the Barbary Coast.
Finally Walter reviews his obsession with Meghan Markle and the daily horror of the life of prince harry—"A laundromat"
PLUS
Velo Houle's fish report.
Vic Ferrari's cop stories
The USUAL EDITION
LIFE AT THE DRIVE THRU BREW.
September 20, 2020:
The first hour of the show – the most important part!
September 13, 2020:
Live from the Laundry Room!
September 6, 2020:
100th anniversary of Radio! Walter reveals the secret history top 40 radio. The format was invented by a kid who owned a radio station in Omaha, Todd Storz! He then took the format through the country and it exploded and changed culture forever. Next we discuss the phenom of being alone on a 3 day holiday.  Plus stunning production with THE USUAL EDITION, DRIVE THRU BREW DRAMA, THE USUAL EDITION, VIC FERRARI'S COP STORY and weather from JOHN WEATHERBE.
August 30, 2020
Live from the Laundry Room!
August 23, 2020
Walter's daughter is in quarantine in college. She is stuck in her dorm and forced to eat bad food. Meanwhile other students are caught standing close to each other risking disease and death. Her roommate arrived this week and Dorothy reports that the roommate does not appear to have wacky behaviors. Only time will tell.
Next Walter reviews the amazing fact that Meghan Markle's Santa Barbara castle HAS A MORTGAGE! Meghan then tells us to go and vote, darn it. A member of the British MONARCHY wants us to go and vote. !!!
How could Prince Harry leave BUCKINGHAM PALACE to live with an out of work actress? There is no greater hell than living with an out of work actress.
Plus live weather with
John Wetherbe
Plus DRIVE THRU BREW
Plus TOLL TAKER MASTER CLASS.
TWO FLORIDA STORIES
VELO HOULE tells us how to feed guppies.
VIC FERRARI'S TRUE DETECTIVE STORY
August 16, 2020
Walter talks about the horror of his neighbors during the quarantine. Then his neighbor calls in and yes at him.
Next Walter talks to the VP of a local letter carrier union. He REVEALS that supervisors are TELLING LETTER CARRIERS TO SLOW DOWN THE MAIL. Sterling Exclusive.
Dorothy, Walter's daughter, is in her quarantine period at Syracuse University. The quarantine has been horrible for income freshmen.
Walter explains that Portland is not a real city.
plus
THE DRIVE THRU BREW
THE USUAL EDITION
VELO HOULE
August 9, 2020
Live from the Laundry Room!
August 2, 2020
Walter revealed the bizarre way schools are re-opening. His daughter entered a private college but it requires
Proof of negative Covid test…and only one parent is allowed to accompany her…and she is ALONE quarantined in a dorm room for 14 days
AND the college will charge $1000 extra for the housing for TWO WEEKS.
Next James Copeland broadcasts updates from his Winnebago and reveals the sadness of a cancelled Kansas State Fair.
Next Walter reviews celebrity behaviors that bother him: Complaining about a lack of privacy is at the top of the list!
PLUS
THE USUAL EDITION
DRIVE THRU BREW
VELO HOULE'S FISH
FLORIDA STORIES
AND JOHN WEATHERBE'S WEATHER!!!!
July 26, 2020
Live from the Laundry Room!
July 12, 2020
Walter talks about vacation hell in Caracao.  The island where slave bodies were dumped after dying on the ships. Then Walter explains that in Bermuda, the richest people in the world still argue. One group complains that the other group don't work hard enough.  It's the same everywhere. Walter then demands to know why everyone is insisting that the kids go back to school—in un-airconditoned rooms and certain death.
New evidence that Midnite Misfits lead. We are never lonely, just by ourselves.
Plus…
THE USUAL EDITION
DRIVE THRU BREW
FISH NEWS FROM VELO
FLORIDA STORIES!
STERLING ON SUNDAY, WRITE TO US waltermsterling@gmail.com
July 5, 2020
HAPPY FOURTH OF JULY
Walter explains that there are two things you must never do: Never compare anything to the Holocaust or wear blackface. A newspaper in Kansas said that being forced to wear a mask is the same as being forced into freight car to die. No.
Next CAMP STORY. Walter hated camp and shares why! First, the hernia exam given by a very old doctor. The bottom of the lake was super gross, terrifying. But there was one extremely GOOD thing about camp that has stayed with him to this day.
VIC FERRARI retired NYPD detective shares his story about idiots bringing illegal fireworks into NYC—and answers the key question, what do they do with seized fireworks and MARIJUANA.
NEXT Walter share about his time on route 23 in Louisiana. The road to the end of the boot! Hear what he discovered.
PLUS
THE USUAL EDITION
VELO HOULE'S FISH REPORT
JOHN WEATHERBE'S WEATHER —his mom has cancer let's pray for her.
Please LIKE Walter on Facebook: Walter M Sterling
June 28, 2020
Walter is a bachelor. His family is gone for the week. But he doesn't understand why it takes women so long to buy a swimsuit and to pack!
They pack as though there are no stores any place else on the planet.  WALTER thinks the answer is found in the south of France—topless beaches then there is no problem finding a swimsuit.
Next Walter feels that if you lie within 20 miles of any city you should be able to vote for the mayor of that city….and of your silly little city.
Plus a spectacular
USUAL EDITION
DRIVE THRU BREW
VELO HOULE'S FISH REPORT
June 21, 2020
Walter reveals his choice for most powerful man in the world: Paul McCartney. Any woman would sleep with him. He has all the money he needs. No one hates him. And anyone would take his call instantly.  Next THE LUCKIEST MAN in the world, Matteo Markus Bok. He performed on THE VOICE KIDS in Germany. ITALY'S GOT TALENT.  Put out a book called PROMISE. Has had many hits in Italy and just put out a hit in Spanish. AND he lives on South Beach…………he's 17.
Next Walter reveals the 9 at 9 at 11 PM! Cure baldness with McDonald's fries? Neflix causing a decline in sex among young adults.
Walter says they are just finally being honest, people don't have nearly as much sex as we think.
plus
THE USUAL EDITION
DRIVE THRU BREW—————COMBINED
VELO HOULE FISH REPORT
FLORIDA STORIES
I give the show a solid "B"
June 14, 2020
A BIG SHOW. Walter starts with the 9 list.
Number 9:  Walter asked Family friend Messiah how there can be a conversation and everybody getting along when so many people get fired for trying to get along. One wrong TWEET and you're out.
Number 8:  experts reveal that almost half of all men shave their legs because they want to look either a sports star or a porn star. "SPORNOSEXUAL"  Walter is disgusted.
Number 7 Walter is disgusted that Jessica Mulroney has lost all of jobs including on GMA because of something. He can't find what it is she said. MORE STORIES LISTEN!!
AT 46 PAST THE HOUR, JAMES PARKER'S FLORIDA STORIES
THEN Walter shares what's special about America. There is nothing like a crisp spring night in June throughout suburban America.
MIDNITE MISFIT launches a new feature VELO HOULE'S FISH STORIES.  Next how a misfit can have positive influence on all those around them—forever. Walter tells the story of second grader Tracy.
Definitely a good show—let me know what you think waltermsterling@gmail.com
June 7, 2020
Walter believes that the challenge is that cops are asked to be involved with things they should not be involved in. Because they are trained to be armed and to arrest, their only works should be in areas of violent crime.
The show features two high school students sharing their perspective on racial inequality.
Vic Ferrari a retired NYPD detective also believes that sometimes less policing is best.   His book is GRAND THEFT AUTO featuring true stories of NYPD auto thefts
May 31, 2020
THE best and worst weekend in America in decades. The space launch was flawless. SPACE X. Walter talks to DR STEPHANIE OSBORN, retired NASA rocket scientist. She says YES THERE WAS SEX IN SPACE!
Then Walter wonders why violent protesters believe that looting Louis Vuitton would solve racial equity issues.
PLUS
THE USUAL EDITION
DRIVE THRU BREW
A very special Sterling on Sunday
May 24, 2020
Walter reveals what it's like to be a single guy in New York City on a three day weekend. It's a peculiar kind of hell. In normal times, these are the tough weekends for singles, in these times it just must be wacky. Walter asks, what is it like for single women?
Next Walter starts to reveal the Memorial Day 500 LIST OF ANNOYING THINGS…………..TOLLS!   ARUGULA!  SISTER IN LAW ! Yes it's all here.
Then Michael Terpin, a cryptocurrency expert, lost 24 million dollars when a kid allegedly stole his SIM Card from his phone and made out like Al Capone with a phone.
Walter continues the list of 500 MOST ANNOYING THINGS on the Memorial Day 500…..Cell phone bills, Cable bills, mechanics. It's a robust list!
The show features the stunning production work of James Copeland who lives in an RV in Kansas, no, really. Please enjoy:
THE USUAL EDITION
DRIVE-THRU BREW
FLORIDA STORYS BY JAMES PARKER
THE CURSE OF OAK ISLAND STARRING VELO HOULE
AND WEATHER FROM JOHN WEATHERBEE
Write to us at waltermsterling@gmail.com
And for gosh sakes download the podcast. 
May 17, 2020
Walter starts with the important subject: Why didn't Susanna Hoffs marry him in the 1980's? It remains one of the great mysteries.
Walter buys a food diet program. But he does it all wrong. The food is delivered to his house and he ADDs it to his meals rather than using it to replace his meals. What to do?
Next Walter demands to know why Justin Bieber is whining about having had too much sex. Too much sex!
Plus a stunning menu of produced special features including
FLORIDA STORIES
VELO HOULE AND THE CURSE OF OAK ISLAND. (It's a sinkhole)
LIFE IN THE DRIVE-THRU BREW
JOHN WEATHERBEE'S Weather, there is a storm a brewin!
ASBESTOS FALLS. No one understands it but hide your fonts
Listen to the whole show and discover what radio is meant to be.
May 10, 2020
MELISSA DECEASER is a Research Mom from Edison Research. She did a study on Moms and tech and found that Moms are using more Tech than ever!
Next Walter tells hilarious stories about his mom.
Next TJ Lubinski reveals the truth about Little Richard.
Plus
THE USUAL EDITION
DRIVE THRU BREW
THE MASTER CLASS: RV REFURBISHMENT
TWO EPISODES OF FLORIDA STORIES—BEST EVER
May 3, 2020
STERLING ON SUNDAY THE FASTEST GROWING SHOW IN NETWORK RADIO this week features Walter's analysis of unemployment: "30 million people have filed… that means most of them never have filed and they have no idea of the shock they are about to experience."
Then Walter shares his experience at THE KENTUCKY DERBY when President Carter vanished when he started losing.
Next HAVE YOU GOTTEN YOUR BUSINESS LOAN? No one has!
Next Randy West Hollywood Savant. Reveals the nonsense of celebrity divorce.
MIDNITE MISFITS love Psychic Genna. Hear when he believes the virus will leave.
PLUS
THE USUAL EDITION
FLORIDA STORIES
Fantastic. Feedback encouraged waltermsterling@gmail.com
April 26, 2020
We should work but we should not go-to-work as Walter explains.
Plus Al Spry in Orlando describes theme parks with no attendees and how spooky it is.
Plus your stuck in your house stories.
Plus
ASBESTOS FALLS
THE USUAL EDITION
DRIVE THRU BREW
FLORIDA STORIES
SECRET CODED MESSAGES
JOHN WEATHERBE WEATHER
April 19, 2020
This episode is slightly scattered but certainly not horrible compared with most of the nonsense to which you listen. First  Walter believes that we should not go back to work. Instead, bring out the skill you have always wanted to celebrate and use it. Or, start your own business. But going back to work is nonsense. You were poor before and you will still be poor, seems like a bad plan.
Next Walter talks with Eric Rhoads who created PAINTBYNOTE which is a system that lets you paint through music—it's easy, it works and you need something to do.
To celebrated his 19 years of marriage, Walter reads one of those magazine quizzes about marriage.
The show features our weekly dramas including
THE USUAL EDITION
LIFE AT THE DRIVE THRU BREW
FLORIDA STORIES FROM JAMES PARKER
THE CURSE OF OAK ISLAND FROM VELO HOULE
JOHN WEATHERBE WEATHER
"I feel as though a lot of people on the show aren't telling me about their past…"——Walter Sterling
April 12, 2020
STUNNING THEORY. When the virus clears, most people won't go back to work!
ERIC RHOADS reveals PAINT BY NOTE. A simple system that enables even you to paint while you are quarantined.
JILL BROOKE reveals FLOWERPOWERDAILY.COM the most beautiful website ever.
Walter discusses how much fun we will have when we don't go back to work
Next Walter asks how he can get the cats to stop peeing and his daughters to open the door when the boyfriends are in their rooms
PLUS
THE USUAL EDITION produced by James Copeland. Fun for all in these trying times.
April 5, 2020
A full summary of virus news. Missouri is going to be closed!
Dr. Ken Kronhaus reveals that the Malaria drug looks like a good solution for the Coronavirus.
He takes calls. No, don't worry about handling your mail.
Walter Reveals the worst things he's learned about his family while stuck at home with them.
He also predicts the future of post-virus world. Why go-to work?!
NEW FEATURE. …SPECIAL SURPRISE SANDWICH OF THE WEEK with Joe From Long Island.
Why Misfits rule
PLUS
THE USUAL EDITION
LIFE AT THE DRIVE THRU BREW
THE CURSE OF OAK ISLAND
ASBESTOS FALLS
!!!! LIVE ON SUNDAY NIGHT
March 23, 2020
Dr. Ken Kornhaus, Cardiologist of note, explains that the corona virus is a harder hitting, faster moving virus that other viruses. Walter does not believe him.  Reach him at Lake Cardiology in Orlando Florida.
For fun, Denny Somach has written a collection of rock star responses to the question, what did THE BEATLES mean to you?  You will be shocked at who refused to answer the question.  The book is called A WALK DOWN ABBEY ROAD at Amazon.
Walter gives constant updates on the my Sharona virus.
JAMES COPELAND produced THE USUAL EDITION, brilliant.
JAMES COPELAND produced DRIVE THRU BREW brilliant.
VELO HOULE gives an update on THE CURSE OF OAK ISLAND.
Walter has ordered a new mic processor.
Plus more phone calls from drunk listeners than any other show in American Radio.
March 15. 2020
Walter plays a Wagner opera under his reading of the horrors of rich people in Manhattan having to brave the aisles of……….TRADER JOE'S OH NO. Yes they can only find scraps of rice!
What is this Jersey?  Next Walter believes this is a conspiracy, he believes the virus has been here quite awhile and the GOV'T is playing catch-up.   NEXT at 45 past the first hour, spectacular guest 

Kerrian

 

Fournier

, CEO at Vybrante Ventures,

has spent years working with managers and employees goes over the real world troubles of working from home. Get more details about her at 

www.vybrante.com

.  She tells Walter how to cope with his 17 year old daughter who is freaking out about the cancellation of her social life!
Then, Walter tells the incredible story of a murder trial that actually let him be a juror. Jurors saw THE MURDER VIDEO, HD Video of the scene and event. They saw video of the autopsy featuring SOUVENIR BULLETS FOUND INSIDE THE VICTIM. Cut up before your very eyes.  The murderer admitted the crime, we saw the gun flash. The verdict will
shock you. It shocked us.
PLUS
WEATHER
ASBESTOS FALLS CREATED BY JAMES COPELAND
AND
VELO HOULE reports on THE JOKE OF OAK ISLAND
March 8, 2020
Live from America's Laundry Room!
March 1, 2020
Walter talks to someone who actually understands money, Jared Dillian. He says, "enjoy your money, don't buy a crap car, buy a car you enjoy."  He explained that the market was volatile mostly due to the possibility of Bernie Sanders getting the nomination, now they might calm down.  Next Walter talks to TJ Labinsky who produced thousands of hours of concerts on TV. He shares who had the wackiest dressing room demands and that Aretha Franklin called HIM!  Listen to Walter's podcast every Wednesday on Apple iTunes, download it with thanks
February 16, 2020
It's a festival as always. First Walter discusses Valentine FAILS. It is a holiday meant to trick men and set them up for failure. It never disappoints. One call even sent divorce papers on Valentine's Day.
Hilarity ensues. Next Walter shares the secrets of the VANITY FAIR HOLIDAY PARTY. People are invited to show up at DIFFERENT TIMES. Walter was invited to show up at the loser time.
Then Walter explains that his 93 year old father just passed away. His father was a great dad and quite a success. But Walter says the success was not his resume, it was that he set a goal from childhood, to make it to the top of the mountain, and he did it honestly and with integrity.  The man had no malice.  But THE TOPIC is who gets to decide where to bury dad? The answer is..Dad! He bought a plot to solve the problem. Yet there is stilll discussion about it! Amazing. Now they all have to agree on where. Families are stupid.
In the news, Alabama is proposing all men over 50 get a vasectomy. And people making 100,000 a year do not feel that they are doing well. No savings. No retirement.
PLUS
WETHERBEE WEATHER
THE USUAL EDITION
ASBESTOS FALLS PRODUCED BY JAMES COPELAND
VELO HOULE ON THE CURSE OF OAK ISLAND. (there is nothing there)
February 9, 2020
OSCAR NIGHT! Walter reveals secret red carpet interviews plus how the red carpet actually got there. Plus audio from the only two great movies ever made.
And what are those movies at the awards? Did you ever see them? Heard of them? Is everyone named Marty? Plus, was that Al Pacino or Richard Lewis?
FLORIDA STORIES—2 EPISODES
WEATHER
ANNIE THE BARTENDER
VELO HOULE ON OAK ISLAND
GARY R'NEL on why he doesn't like any awards ceremony
LISTEN TO THE PODCAST and download it MIDNITE MISFITS
February 2, 2020
Live from America's Laundry Room!
January 26, 2020
DAZZLING STERLING ON SUNDAY. Listen to this broadcast!  Walter reveals the scam of his $3000 phone bill. Listeners call in with their tales of phone company hell.    The GRAMMYS took over a half hour to give out first award.  Alicia Keyes looks amazing in a dipped in silver dress.  Stop the nonsense of impeachment. Walter lists 5 things more important, they include …take down all toll roads.  Listen for the rest of the list.  CHINESE NEW YEAR. In 4th grade Walter celebrated it on WONDERAMA. Hear how he was humiliated on air…but he was in showbiz!
January 19, 2020
Here are the subjects explored in depth on Sterling this week…..
Most bizarre stories ever:
–man claims fired for video of mishandling food.
–Pete Rose says MLB cheating decision GREAT!
–Florida woman shoplifts bomb material from Walmart
–Prince Harry….Job at Burger King.
–Americans self-conscious about sportswear in gym
–Kansas man wants legal sword fight with ex-wife.
PLUS
FRESH FRESH FLORIDA STORIES
LESBIANS IN SPACE
THE USUAL EDITION
DRIVE-THRU BREW
WETHERBEE WEATHER
January 12, 2020
Live from the Laundry Room!
January 5, 2020
IT'S A BIG SHOW. First Walter discusses how he FINALLY got his car out of the hood.  And how he got out from under the hood of his car.
Next Florida stories reveals that a mother will take tasers for her son, the con. Then ASBESTOS FALLS RETURNS with a news report about the GOURD Festival. Velo Houle reveals that HISTORY.CON will NOT feature the stars of OAK ISLAND or the stars of AMERICAN PICKERS. What the hell?  Walter ends the broadcast with a big thank you for his new RCA 77 mic, a Christmas gift from a true friend.
Thanks to Dave Skalish, Frank Canale, James Parker, James Copeland and Lee Harris!
December 29, 2019
Live from the Laundry Room!
December 22, 2019
Live from the Laundry Room, eventually.
December 15, 2019
STERLING ON SUNDAY live from a Christmas market. No man likes a Christmas market.  His remote booth is next to the port-a-john and the service area for the cards. Horrible.
James Copeland has a report from his RV in Kansas.  CBS news is putting dishes on top. Outrageous!
December 8, 2019
HOUR ONE
How's the mall going? Many retailers are having a lousy December. Walter explains that it's not Amazon's fault! Hear why he says Amazon has nothing to do with it. There is nothing like Walter's take on retailing.
Next James Copeland reveals LIFE IN AN RV in Kansas. James speaks very slowly which adds to the irony.
Jerry D discusses the impact of the snake ini his house in his mind. Why Walter thinks this is entertaining is anyone's guess, but listen and decide.
HOUR TWO
Walter finally sat next to a pretty woman on a plane and thanks to METOO and fear in general he does not start a conversation. THEN IT HAPPENED. SHE STARTED THE CONVERSATION!!!!!!!!!!!!!!!!!!!  You shared your feelings about this with Walter, riveting radio.
HOUR THREE
MIDNITE MISFITS. Walter gives out the secret code. He talks about how for much of his life and career people have done much to avoid being associated with him yet they want the BENEFITS of being associated with him.
PLUS
THE USUAL EDITION
FLORIDA STORIES
HEARTLAND HEADLINES
VELO HOULE
JOHN WETHERBEE WEATHER.
December 1, 2019
HOUR ONE:  Walter reveals that if you had the life you really want…living in Bermuda with #annakendrick you would still have sore feet and that itch in your ear. You would stilll be you !  Next WALTER'S FAVORITE THINGS. You can win one of Walter's Favorite things just by answering old times talk radio subjects.
HOUR TWO:  The winning continues with WALTER'S FAVORITE THINGS for the holidays!  Plus a free pass to not see your relatives just for guessing the mystery voice of the large breasted actress.
HOUR THREE:  MIDNITE MISFITS.  Randy Thomas is the voice of the Oscars, Emmys, AND Sterling on Sundays USUAL EDITION.  Randy gave a TEDx Talk and we proudly share it with you—hear her remarkable story from her remarkable voice. It's stunning.
Then Walter wants to know how to get his minivan back from the hood. Listeners give great advice. Walter still doesn't have it back.
PLUS THE CURSE OF OAK ISLAND UPDATE
November 24, 2019
That person at work who gets away with "load factor" excuses. They don't do much work but everyone upstairs likes them and nothing bad happens.
The default power it home is the woman's. Walter discusses what power he has and has not! Hilarity ensues.
THE TURKEY SALESMAN AND 99 TURKEYS is the story of the night and you can hear the whole story in the MIDNITE MISFITS Podcast
PLUS THE USUAL EDITION celebrates IMPEACHMENT WEEK!
DRIVE THRU BREW and CURB SIDE PICK UP worlds collide!
November 17, 2019
Live from the Laundry Room!
November 10, 2019
VELO HOULE joins Walter to review the premier of THE CURSE OF OAK ISLAND. Walter says there is absolutely nothing under Oak Island.
There is no gold. Velo says the Holy Grail is there! Hilarity ensues.
Jerry D shares his terrifying story of a snake in his house. He begs for help getting rid of the snake.
Next the threat to humanity revealed; The Dark Side of Yoga!  Walter says if someone manhandles you…….in YOGA…stand up and leave.
Plus
HEARTLAND HEADLINES from James Copeland
DRIVE THRU BREW revealed
THE USUAL EDITION STARRING RANDY THOMAS.
November 3, 2019
Walter reveals that men cannot make their voices sexier. Sexy is dependent upon what a man says. Walter demonstrates sexy words for a woman from New Jersey…"Taylor Ham on a roll with ketchup" That will do it!   The strange voice story of Elizabeth Holmes.
Then Walter's college friend Jerry tells that there is a snake in his house and Walter asks listeners for solutions but the phone screeners are confused.
MIDNITE MISFITS
Also featured
LIFE IN THE DRIVE THRU BREW
RANDY WEST TELLS A TONIGHT SHOW STORY SECRET AND BAD COLLEGE RADIO
October 20, 2019
Live from the Laundry Room.
October 13, 2019
WHAT DO YOU TELL YOUR TEENAGE DAUGHTER WHEN SHE is dumped? Not in the parent manuals!
WHAT HAVE YOU STOLEN FROM YOUR CHILDREN? Walter confuses to stealing piggy bank money to play the tooth fairy.  Next Walter explains that the Beatles and Beach Boys had an extra track, a spiritual track on their songs that make them eternal.
Walter explains the Vaping "crisis" It's not the stuff you buy at the Vape store, it's street, toxic chemicals assholes are putting in their pipes that's Killing them. Why isn't that story told?
PLUS
THE USUAL EDITION starring Randy Thomas
October 6, 2019
HOUR ONE.. ALIEN CON….VELO HOULE was our reporter on the ground in Dallas. The convention of people obsessed with the TV show ANCIENT ALIENS met in PACKED sessions to discuss alternative history. No other radio show had on the ground coverage.
Next Walter explains that the worst thing that can happen on any given day is as simple as a over-flowing coffee pot. His "fix" didn't work and, yes he will have to get a new coffee maker. NEXT daughter Dorothy herself reveals exactly what happened at HOMECOMING and her relationship with boyfriend's Mother! Secrets abound.
HOUR TWO WALTER HATED HIGH SCHOOL GYM. Mainly because guys were required to swim naked. That's correct. In MOST high schools, guys were required to swim naked. MILLIONS of young men were traumatized for life by this bizarre, unbelievable practice.
NON-STOP PHONE CALLS from Dallas and Washington.
HOUR THREE MIDNITE MISFITS. Secret encoded message given out and you can decode it with your free MISFIT CARD. Gary R'Nel reveals a New Jersey retail horror. Then Walter shares how to get out of the corporate/owned world and work for yourself.
For a Misfit, the only hope for a great career is to work for yourself !
September 29, 2019
Walter received a letter from listeners in Granville Illinois who were listening on KDKA. They thanked him for the telling the story about how his daughter is the happiest person he has ever known. Walter thought ….why is his daughter happy? She's happy because she forgives. If a person makes a mistake she always says, "That's ok" If they say something offensive she says "that's ok." She doesn't live in the resentment, she lives in the moment.
Gertrude Berg won the first Emmy for acting. Have you ever heard of her? No. Important people and things vanish in the tissue of time. Mrs. Berg was the most powerful person in media for 20 years. She wrote, acted and produced her sitcom for CBS and earned a fortune. Walter tells her story.
Then Walter shares the story about the star of talk radio from 1935-1957, Mary Margret McBride, so big that when she had her 15th anniversary on the air they had to rent YANKEE STADIUM to handle her crowd. But today like Gertrude Berg, no one remembers her. What you and I say is just not a big deal.
Next Walter needs help figuring out what to say to his daughter's boyfriend's mother. She refuses to let her son go to homecoming dance even though he gave his word and Walter's family bought the dress and tickets.
Dr. Ruth Westheimer was a radio and TV star who talked about sex in vivid detail. How did she stay on the air—on an NBC owned property? The story is astonishing.
Next Walter reveals that there are thousands of homeless women veterans and he finds that unacceptable. He shares the astonishing interview with a formerly homeless vet, ANNA ON THE BUS. Best storyteller ever.
September 15, 2019
Just the last half hour of this show.  The important part.
September 8, 2019
STERLING ON SUNDAY ON ICE.
TROUBLE . We are thrown together with random people at work, school, and the bus stop. We are told to get along. There is severe punishment for not getting along.  Walter alienated other parents at the bus stop by telling the "Moms who garden" that their husbands should help with gardening. Anger ensued.
NEXT The HONEY BADGER. The person at work who steals your eggs, nest and food, the asshole who takes credit for your hard work.   Pray for them, pray for them to be hit by a bus.
PLUS
JOHN WETHERBEE WEATHER
FLORIDA STORIES
BAD COLLEGE RADIO
VELO HOULE AND THE CURSE OF OAK ISLAND
September 1, 2019
Live wall to wall coverage of hurricane Dorian live from the Westwood One Laundry Room…
August 25, 2019
STARTING YEAR 3 OF STERLING ON SUNDAY.  First up, FIRST DAY OF SCHOOL. Walter felt shamed the first time he saw other children's lunchboxes. They had Bento boxes, space dividers, and sushi making kits. Walter's kids had a turkey sandwich and fruit juice. Suddenly Walter felt that he was not an adequate parent.  Hilarity Ensues.
NEXT Walter explains that if somebody wants to win the Presidency, they should eliminate toll roads, air condition all schools and make it illegal for men to pose for their wedding announcement photos without wearing a tie.
Next Walter tells the PEANUT BUTTER OF 2019 INCIDENT that will determine his relationship with all of his in-laws. Listen for the astonishing tale.
PLUS
– BAD JOKE FROM JUDY IN DALLAS.
– THE USUAL EDITION
– DRIVE THRU BREW
– VELO HOULE AND THE CURSE OF OAK ISLAND
– FLORIDA STORIES WITH JAMES PARKER
– JOHN WETHERBEE WEATHER!
Write to Walter at waltermstelring@gmail.com
August 18, 2019
BLACK FISH SPECIAL: Walter is stuck in a nice beach house with all of his IN-LAWS. All of them. As nice as the house and beach are, the wrong crowd can ruin anything. Now Walter must find a way to keep his mouth shut when surrounded by relatives.
Listeners reveal what ruined their vacation!
The show is LIVE from the beach.
ENJOY
THE USUAL EDITION
DRIVE-THRU BREW, AN AMERICAN SERIAL
FLORIDA STORIES
VELO HOULE AND THE CURSE OF OAK ISLAND
ANNIE THE HOT BARTENDER
GARY R'NEL'S RESTAURANT REVIEW
So much show.