June 18, 2018
What has your father done to embarrass you?!  Happy Father's day.
Meredith's opinion is that there should be no tests in school.  The University of Chicago is making admissions tests optional—Bravo.
Hear the Usual Edition from public radio. Sort of. Did Trump cause the Hawaii volcanoes?
Stephanie Osborn, former NASA scientist reveals how NASA could lose vital data about the moon landing. She also reveals if there has been sex in space. Listen for the answer!
Vic Ferrari retired NYPD Detective reveals how the cops built a private pool for their own use at the beach.
Walter gets really angry at big banks. Callers question Walter's finances. Hilarity ensues.
June 10, 2018
A suicide? Anthony Bourdain, CNN Traveling Chef? Walter thinks it was not a suicide. retired NYPD Detective Vic Ferrari also thinks its suspicious.
SOS regular Julissa reveals that her BAKE YOUR BOOBIES event was delayed by issues with permits.
MUFON symposium Chairwoman Julie Stein reveals that there will be a major announcement about UFO's from the Gov't soon. Walter has many doubts.
ASBESTOS FALLS, summer series episode 2 "I didn't know flavor was so sticky."
MIDNITE MISFITS. Walter needs your vacation home for a week so he doesn't have to stay at the beach with his relatives.
June 3, 2018
THIS WEEK, Sterling on Sunday is proud to launch our SUMMER SERIES Scripted and produced by the remarkably gifted students at KSDB-FM college radio in Manhattan, Kansas.
How good could students in Kansas be? Wait till you hear it!
It joins the robust SOS menu of produced, original programming:
• The Usual Edition. NPR as we hear it.
• Toll Taker Tumble. Secret recordings of tall takers at work
• Beautiful people who get uglier the longer they speak.
• Secret recordings of vacation home landlords.
• Did they take all the trash? A suburban Drama.
• And the coveted, should be awarded, LESBIANS IN SPACE.
May 27, 2018
Memorial Day weekend is the primordial ooze of American Culture. It is the beginning of the summer holidays that are great if you're in a family but not great if you don't fit in. These are the invited holidays. You have to be invited to the BBQ, the club, the pool. There is nothing creepier than a man alone at a beach.
Walter explains why Italy and France do not declare war.
Midnite Misfits report. New codes are given for Midnite Misfit Decoder cards.
Gary R'Nel reveals a story about a business owner whose sign is so offensive the township demands he take it down. It just says that if you are fat and ugly, you can lose weight at his gym and just be ugly.
Walter reveals his core beliefs which includes the necessity of 24 hour room service.
May 20, 2018
THE ROYAL WEDDING…how does the prince get away with inviting both of his EX's. What was wrong with the front of her dress?  No bra?!  She needed a bra.
Reminders of resentments from your wedding! Walter shares his.
Next…our salute to the coverage of NPR and their fascination with Chuck Schumer. 
The solution to in school violence revealed by a 15 year old.
Companies that free the food are saluted! all at work food should be free!
May 13, 2018
Live from WLS Chicago
IT'S A FULL NIGHT OF CHICAGO!
Garry McCarthy reveals that Chicago pizza has its benefits—and he's a New Yorker. Former Chicago police superintendent and Newark police chief reveals why he wants to be Mayor of Chicago. Plus he has a hot wife.
Big John Howell morning man on WLS reveals his radio nightmare and it turns out it's the same as Walter's
 Cook County Commissioner Richard Boykin answers questions about how a poor kid escapes poverty—have PARENTS! It's not up to the State.
Next Walter asks listeners to donate their summer homes to him for a vacation that will include a live broadcast of the show from the summer house.
Pete Koconis is a 38 year retired Chicago policeman who tells great stories about Albinos!
May 6, 2018
Live from the Westwood One Laundry Room…
THE KENTUCKY DERBY…how Walter taught President Carter to bet on the Derby. What happened when Carter lost.  Derby day!
Eric Rhoads reveals how he switched from executive to artist and became rich. His new book shows anyone how to make money from their art.
Owner of Legacy Box explains the worst mistakes that are made when starting a business—don't give up!
The 15 year old wants a 10,000 dollar sweet 16…what to do?!
Walter discovers he's Catholic and not a WASP! Embarrassing misfit moments.
April 29, 2018
The Vanguard… Amazing that hundreds of women would join a sex cult that required them to eat 800 calories a day, be branded and call their leader VANGUARD. A schleppy guy from upstate New York. Walter doesn't think they are victims, he thinks they are idiots. Just LEAVE.
Drizzle on a sandwich? Walter wants MORE MAYO. Has trouble with women working behind the deli counter. How could a woman know how much mayo Walter wants on his sandwich?
Charlie Campsie a LYFT driver answers the question…have people had sex in your car and how much should you tip?
What constitutes cheating? Walter says only physical contact. He believes flirting on social media is not cheating but a complete waste of time and it's flirting with THE UNDEAD.
Larry Wachs reports that Michelle Obama is probably a man.
MIDITE MISFITS. When did you know you didn't fit in? Special report from Gary R'Nel on good things about being a Misfit.
The hell of being left handed…good luck with that three ring binder.
April 22, 2018
Free the Pee! Walter believes that all rest rooms in all stores and restaurants should be free. open to all. Where is the best public restroom? In the Paris subways.
Then he explains that the leading addiction in America is to peanut butter and he confesses to how he knew he crossed the line.
BONUS the Amazing Kreskin reveals that he only gets paid if he can find the check through telepathy. ASHLEY MADISON.com is still a thing. Over 15,000 cheaters register every day—more women than men.
How do you know if your partner is cheating?  NO HOMEWORK. There should be no homework given in school, it's your house! WIN POT FOR A YEAR…how much would you need? PLUS the theme to 64 zoo lane!!!!
April 8, 2018
Walter is back from the Westwood One Laundry Room from Philadelphia to Guam!
WALTER covers too much ground on this show: Learn how to make a great grilled cheese. Discover why humans could not have built the pyramids of Egypt. Hear the worst wedding behavior story ever. And why Mark Zuckerberg of Facebook should be fired. Attention celebrities, please stop apologizing!
April 1, 2018
Guest host Gary R'Nel discusses his mobile device addiction, corporal punishment in schools and his effort to increase employment in the fast food industry.
March 25, 2018
Live from the Westwood One Laundry Room from Philadelphia to Guam!
A 15 YEAR OLD public school student explains exactly what it feels like to go to high school knowing you might be shot. She also reveals why teachers should not be given guns and
how one simple act will stop the shootings in schools. One thing.
Plus Westwood One's Bob Constantini reports on the marches by high school students throughout the country.
March 18, 2018
HOW DO YOU DEAL WITH THE NEIGHBORS? Walter explores the challenge since he has just moved to a new house. He doesn't want neighbors at all. One neighbor has motion sensor giant prison lights on the side of the house that keep walter up all night. what do do. hilarious callers.
DOES ALEXA LISTEN TO YOU? Larry Wachs has all the details. we think YES.
Judge Judy interviews the stars of CALL ME BY YOUR NAME. Hilarity ensues.
Walter says we are entering a beehive culture, everyone has to please the queen bee. Married men have no role today and that makes them dangerous.
Hilarity ensues.
March 11, 2018
Personal scams. Walter reveals that he steals Splenda, crashed a funeral lunch and "needed extra time" boarding an airplane …getting on first.
Plus your Spring Break stories. Walter was too chicken to go to Spring break and his mother wouldn't have let him go anyway. Listeners share their stories with strippers and whores.
Monica Lewinsky says that the "DNA of the world changed in 1998." But she still hasn't apologized to Mrs. Clinton. Oh Well.
Jennifer Lawrence says she would butter up Timothee Chalamet and slaughter him like a pig. Seems like hypocrisy for a #metoo-er.
March 4, 2018
• Scary things that happened in your house before you moved in!
Walter was robbed six times because the last tenant was a drug dealer.
• OSCAR report. What did you wear on the red carpet?
Asked of reporters who just weren't actually there.
•
Study shows women are much worse at work to other women.
Walter has seen how bad women bosses are to women.
• CALLERS continue to reveal what they steal: SPLENDA hot item.
• CALL ME BY YOUR NAME special re-enactment.
•
B
ad rules at work. US Postal workers refuse to deliver mail to
February 25, 2018
Have you ever been evicted? Listeners share their horror stories. Walter reveals that he got an eviction notice last week because his landlord forgot to look at his bank account. Oh gee.
Next Ryan Wrecker of KMOX shares the wacky story of the Missouri governor being indicted for invasion of privacy. An indictment? Is that where the DA should focus their energy? Really? How about moving company scams?
Adam Peterson, age 21 explains how he could write a 350 page novel in one year and still go to college. THEN  Larry Wachs. from the SW Bunker explains that the Olympics should just go all out gay.  Then the Midnite Misfits discuss BAD BREAKROOM stories with Walter and Gary R'Nel. Free the food.
February 18, 2018
Doc Washburn of KARN Little Rock reveals what Sports Brackets are and BABE BRACKETS now the hot story in Little Rock.
TV women reporters are put in SPORTS BRACKETS by a local radio station and this has many in media all annoyed.
BLACK PANTHER is the hot movie this weekend. Walter explains why HOLLYWOOD EXECUTIVES are shocked that a movie featuring Africa and Africans is such a big hit.They were also shocked that a movie about empowered women was a hit—Wonder Woman.
JENNIFER ANNISTON is getting a divorce. Why would you divorce Jennifer Anniston? Walter says her dietary needs are probably overwhelming. A listener thinks because she probably smells bad.
Larry Wachs of the WACHS MOD CAST reveals that the flu is part of much larger conspiracy.
Who would you go-gay for? Which celebrity? Walter likes Taylor Hanson
February 11, 2018
Should women propose to men? HOT TREND. Walter says, yes they should and they should BUY the $25,000 ring and ask HIS mother for permission to marry.
LISTENER CHOICE: Cell Phone Hell. Listener got 3000 dollar bill, his daughter did it! Walter says APPLE should still pay it!
CALLERS continue to reveal what they steal: SPLENDA hot item.
ABBY LEE MILLER BEHIND BARS. Hear the secret recordings.
#QANON and #Thestorm. What do they mean? Larry Wachs explains all. REVELATIONS AT THE WAFFLE HOUSE.
NEW FEATURE: QUESTIONS FOR THE MOST BORING MAN IN THE WORLD
HAUNTED APPLIANCES killed the Father on THIS IS US and we discover a haunted toaster. Callers reveal haunted appliances.
Fresh,  original podcast OLD DAD SECRETS at iTunes and SPOTIFY. Not a show repeat.
February 4, 2018
David Mueller, the DJ who pinched Taylor Swift—but he didn't and his new boss Larry Fuss. Mueller starts his new job on a station in Mississippi this week. BUT Fuss has received such serious death threats he had to turn them over to homeland security.
Next, Jim Kelly reports from the Superbowl but then we realize!!! that he is not in Minneapolis but in his home in New Jersey. Jim shares with us his obsession with Stella beer and chips. When the Eagles win, we learn that there is noise in the streets of suburban Philadelphia.
Personal crime wave. What crimes do you commit on a daily basis? Walter reveals that he steals Splenda….from church kitchens.
Larry Wachs explains the Twitter Phenom: QAnon and #Thestorm. Walter explains that Nancy Pelosi looked like an ass this week.
January 28, 2018
This show features LARRY WACHS from our Southwest Bunker reporting on censored Twitter feeds that cover #qanon  and #thestorm. Unfortunately his report was blocked on the air by on air interference from a foreign power probably Russia. Our engineers are checking it out now. Report soon.
Next, what do you say to someone who just got a nose ring? Strange tattoos? How do you handle odd physical alterations? Walter says that no one looks better with a nose ring.
Our live report from Westwood One news covering the Grammys. Followed by Gary R'Nel on stupid Grammy speeches. Turns out, sadly that no one was really that stupid this year. Time will tell.
Darius Normal reveals that our economy is not better but our ability to go into debt is stronger than ever. Consumer debt ruins everything. He says that commercial banks are corrupt. Walter agrees.
EXCLUSIVE audio from faux Antiques Road show EAST ST. LOUIS EDITION. PLUS Killer appliances, STERLING ON SUNDAY review of THIS IS US.
Resentments towards relatives. Walter shares that his family is so cheap they won't help him pay for a move—instead hire a 100 dollar UHAUL advises one relative. Callers share their amazing family-trouble stories.
FREE THE FOOD campaign continues. Lack of food is the biggest challenge working the third shift. Fun for all.
January 21, 2018
Listen to Catherine Michael, Bureaucracy buster revealed that in public schools kids have been found with duct tape and thrown in dog cages.
CMichael@hzlegal.com  – She is with Catherine M. Michael is the head of the Hollingsworth & Zivitz Education Law Division.. Trouble with your kid's school, Catherine can help. Walter said that the parents of those 13 abused kids in California should be tried and sentenced in Iran, Iranians know how to handle criminals. Ray Gibson runs the STERLING ON SUNDAY affiliate in GUAM, he answer our GUAM questions such as why so many GUAM people are over-weight.   Richard Lustig has won state lotteries more times than any one. His secrets: No quick picks. Use the same numbers.
#thestorm and #QAnon are the hottest trending hashtags on Twitter and Larry Sachs files a special report from the Southeast Bureau on what they mean about our military and the future.
Very important: Follow @waltermsterling on Twitter.
James Muller, the only US native citizen to be extradited to another country to face a murder trial shares how he survived for 9 years in prison in Thailand for a crime he could NOT have committed. Here's his email: jmuller58@icloud.com
January 14,  2018
Walter is moving – his daughter doesn't like it.  And he doesn't like his treatment at the hands of the moving company.
He wants an investigation.  Waiter auditions are coming soon.  Larry Wachs brings us up to speed on Q Anon and The Storm.  Lindsay Lohan is snake bitten on vacation in Thailand.  Walter wants to know on vacation from what?  And tips on winning the lottery!
January 7,  2018
First full show of 2018 featuring the narrator of THE CURSE OF OAK ISLAND. Win a chance to have him voice your voice mail!  And William B Davis, Cancer Man on the X-FILES.  Larry Wachs fills us in on Q Anon and the calm before the storm.   Plus things that annoy you at work and a debate on the quality of prostitutes in Philadelphia.
December 31, 2017
Special New Year's Eve show featuring a look behind the scenes of the Walter Sterling Show.  Plus Antiques Roadshow, Newark Edition, Town Trash Removal Committee Meeting, and Lessons learned on "This is Us".
December 24, 2017
Special Christmas Eve/Christmas Morning show featuring talented story teller "Anna on the Bus".
December 17, 2017
Is Bitcoin a scam?  Walter says yes.  Ladies – do you have a secret stash of money that you keep from your husband? The travails of buying a Christmas tree.  Why are billion dollar companies cheaping out on Christmas parties?  And of course,  Lesbians in Space, Muslim edition.
December 10, 2017
RADIO'S GREAT STORYTELLERS!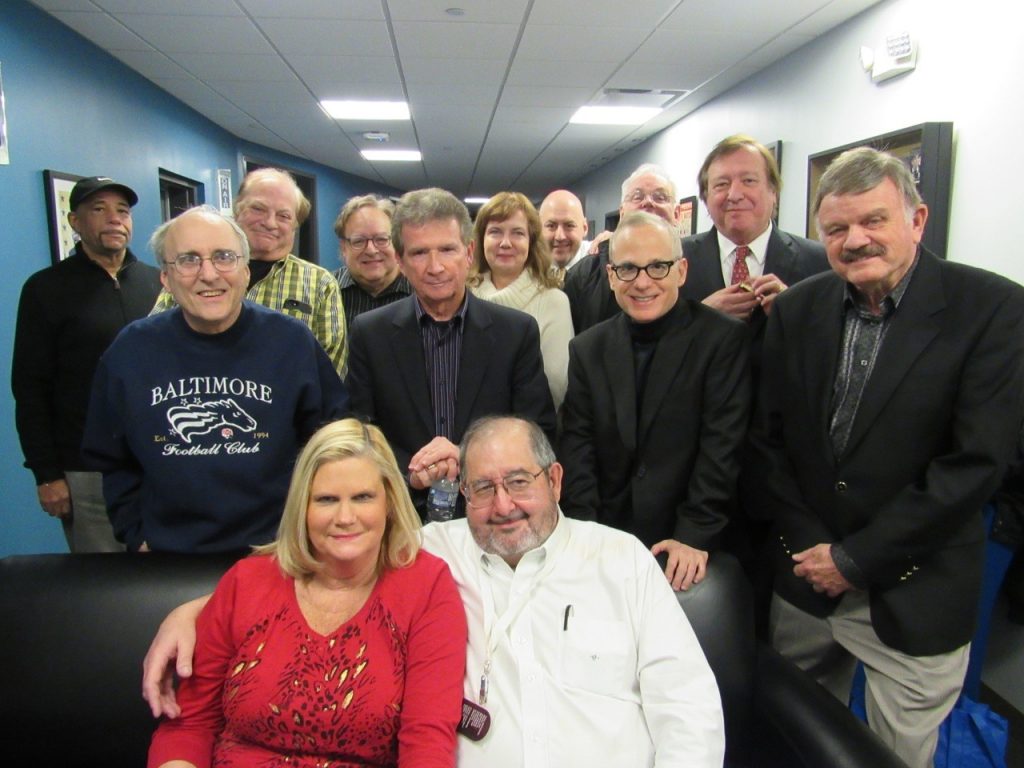 Walter M Sterling  host of the syndicated 'Sterling On Sunday, aired its special 'Radio Storyteller Series' last Sunday from the Entercom broadcast center in Philadelphia. Joining Sterling were (l-r) Douglas Henderson Jr, Michael Tearson, Denny Somach, Gary R'Nel, Tommy McCarthy, Rasa Kaye, AJ Essington, Lee Harris, Ross Brittain, host Walter Sterling and Allen Shaw. On the couch is Judy Anderson and Neil Pohl who had a major announcement: He asked her to marry him live on the air. She Said yes!
December 3, 2017
How to survive the company holiday party.    A woman who used to work in radio now owns a tree service. Paul Levin tells us why everyone deserves to be happy.   Antonia Hall speaks about her book, the Ultimate Guide to Multi-Orgasmic Life.  Walter wants to hear your most selfish Christmas wish.
November 26, 2017
Holiday travel media myth.  Would you give Christmas presents if polite society did not require it?   How hot are giant slot machines?  An expert clues us in.  Walter does not care for curbside pickup.  12 year old Meredith shares her opinion on visiting relatives for the holidays.  The cash call jackpot climbs for next week.
November 19, 2017
Special guests include WLS Legend Bob Sirott and Cleveland Radio Legend John Lanigan.  Sam Greenfield has advice for aspiring game show contestants.   And Walter finally gets a corporate email address.
November 12, 2017
The perils of sisters-in-law.  Finding jobs for vets with professional career advice.  How to get yourself suspended from your radio talk show.   And the secret life of Taylor Swift.
November 5, 2017
More lesbian wedding insider info.  Your parents would be arrested today for the things they did back in the day.  This week's featured out of work talk show host is Sam Greenfield.
October 29, 2017
Airport Horrors.  They can hear you when you are on hold.  Lesbian Weddings – which mom is in charge?  Legendary out of work talk show host Alex Bennett talks about his new platform.
October 22, 2017
Have you ever inserted yourself?  Careful what you say about Harvey.  And a special guest appearance by Casey Bartholemew.
October 15, 2017
Harvey Weinstein, Parent Teacher Night and an Amazing Story of Survival…