August 15, 2019
Just the last half hour of this show.   The most important part.
August 8, 2019
Walter demands to know why for 50 years we have not evolved in space travel. We don't live on Mars! We are not flying to other worlds. Walter gets answers from Stephanie Osborn. Stephanie was a NASA Rocket scientist. She explains that the reason we haven't done more past the moon is that it was never a scientific mission but rather a political mission to win the race against Russia. We won and we were done.  She reveals WHY Russia didn't win and the answer will shock you.
NEXT JAMES COPELAND, writer, engineer, actor, explains his life in the woods broadcasting from an outhouse. No, really an outhouse.  Hilarity ensues
THE WHEEL OF DEATH How did pedophile and alleged sex trade trafficker Jeff Epstein die under suicide watch in prison? While endless talk shows will speculate, we start the fun with the WHEEL OF DEATH. If a listeners theory matches the WHEEL they win a PRIZE announcement.
NEXT ANNIE THE BROOKLYN BARTENDER shares her favorite hangover cure while allegedly drunk! Grill Cheese and Bacon for all.
PLUS
THE USUAL EDITION
FLORIDA STORIES—2 EPISODES
AMERICAN PASTORAL, LIFE AT THE DRIVE THRU BREW.
VELO HOULE THE CURSE OF OAK ISLAND …NICK CAGE !!!!?
Write to the show: Waltermsterling@gmail.com
August 4, 2019
HOUR ONE Walter reviews the horrible mass shootings of the week. He then explains why all the shooters have exactly the same profile….quiet guys from the suburbs.
Walter's theory causes international reaction.
HOUR TWO. Annie the Bartender, sounds drunk, reveals the times that she was propositioned for swinging threesomes.
Listeners join the fun.
HOUR THREE THE NATIONAL RADIO HALL OF FAME WINNERS ANNOUNCED. First media to announce the winners.
DR RUTH!
PLUS
LESBIANS IN SPACE
STRAIGHT OUTTA TEMPLE—a new graduate copes with life.
AMERICAN PASTORAL LIFE AT THE DRIVE THRU BREW THE USUAL EDITION parody of public radio HEARTLAND HEADLINES FLORIDA STORIES.
July 28, 2019
Dating Apps. Strange for older adults. Stranger for younger adults. ANNIE THE BARTENDER shares her observations on how to pick up a new love at an old bar. Next Randy West an expert on HOLLYWOOD reveals which new Game Shows are thriving and which suck moose.
PLUS
THE USUAL EDITION poke at public radio
FLORIDA STORIES. Disgusting as ever.
AMERICAN PASTORAL, LIFE AT THE DRIVE THRU BREW.
BAD COLLEGE RADIO from the Heartland by James Copeland
VELO HOULE and the curse of Oak Island Gold
GARY R'NEL'S Dilemma
July 21, 2019
STERLING ON SUNDAY features a sexy woman who says, "I want a Lobsta roll with butter soaking my hand" Now that's hot. She doesn't want a salad. Annie reveals that she only requires that a man have a car, nice to waiters, decent looking—that's it—to have sexo with her.
Next…get rid of the guilt when you see poverty at lush vacation locales. The solution is
VOLUNTOURISM.
 When on vacation, spend some time helping out people who need help.
BREW THRU. Going through the brew-through is an important part of the American vacation tradition. Walter reviews its history and then presents SECRET HIDDEN MIC audio from the inside of a BREW THROUGH at a mysterious location.
NEXT Walter says that WOODSTOCK 50 is a bad idea.You can't bring the dead back to life. Think…WILL AND GRACE, MURPHY BROWN, ROSEANNE all ruined by being dug up from the cultural graveyard. It's unnatural.
GARY R'NEL'S dilemma is that an ICE CREAM VENDOR offered him SUGAR FREE ice cream. UNSOLICITED! Shocking. Listeners solve the problem of what to say to to the vendor who deeply hurt Gary's feelings.
PLUS VELO HOULE on the Curse of Civil War Gold!
July 14, 2019
HOUR ONE. Cousin Bruce Morrow, who has been on the air playing ROCK N ROLL since 1956, has been heard by more radio listeners than anybody.  He tells how he was ASKED TO LEAVE BERMUDA for playing music that made white and black kids dance together
HOUR TWO: Walter shares the story of how he put NEW YORK CITY into darkness during the 1977 blackout. Next Walter reveals the secret of BOB ROSS' paintings on PBS—you won't believe it!
HOUR THREE Gary R'Nel wonders if it's ok to put a DOLLAR TREE gift in a SAK'S BOX. Listeners flood the lines with advice.
PLUS
HURRICANE WEATHER FROM WETHERBEE
THE USUAL EDITION from Randy Thomas
AMERICAN DRIVE THRU PASTORAL James Copeland, Matt DeSantis
FLORIDA STORIES James Parker
THE CURSE OF CIVIL WAR GOLD Velo Houle
July 7, 2019
LIFE IN AN RV!  Castmember James Copeland has decided to refurbish an ancient RV and live in it. The recent college grad explains how he is fixing up a 1976 RV with studio. He will report from the road for Sterling on Sunday with his RV adventures. Listeners gave him advice. Walter asked if the RV would fit in a Beer Cave?!  Hilarity ensued.
NEXT Walter reveals a study that says stariing at a woman's breasts will lower your blood pressure and help patients with arterial disease. Fascinating!
EXT vacations with the in-laws, how to get out of it! Walter shares his story of vacation with the in-laws.
Gary R'nel's dilemma is what to say to his 58 year old lawn boy who is now doing a lousy job due to injury.
PLUS
FLORIDA STORIES
WETHERBEE WEATHER
THE CURSE OF CIVIL WAR GOLD—REVIEWED
AMERICAN LIFE AT THE BEER BARN
and we play an old WRKO jingle a lot. It's time to be on in Boston.
STERLING SNAPS listeners send in photos of what they are looking at RIGHT NOW!
June  30, 2019
First hour, Walter explains the appeal of X-RAY glasses and takes up back to a time when for 1.00 you could buy glasses that would let you See under a person's clothes! Now a new app will do it for you. The promise of digital technology delivered!
Next…Walter explains that the reason people in big ciites don't understand Trump supporters is that they have never been to a drive-thru brew.  We go inside a DRIVE THRU to study the culture.
NEXT..
HEARTLAND HEADLINES…RETAIL TROUBLE WITH JAMES COPELAND THE USUAL EDITION reviews the debates that have settled many debates, AMERICAN LIFE AT THE DRIVE-THRU BREW. Find out next week if the lawn gets mowed.
VELO HOULE shares his review of this week's TV Show…THE CURSE OF CIVIL WAR GOLD
June 16, 2019
HAPPY FATHER'S DAY.  Dona Spier PLAYBOY PLAYMATE answers questions about THE MANSION and THE MANSION. Then we take really bad listener phone calls.  Next Xanat Paillat a sex coach blows the whistle on modern love. Next Walter reveals that the hiring of ALAN FREED on 1010 WINS was an incidental thought of management, not a big deal. But it changed our culture forever. The As%hole award goes to the almost famous couple who announce their divorce then beg for privacy?!  Gary's Dilemma is what should he say to his adult daughter who expected him to pay for his FATHER'S DAY dinner?!
June 9, 2019
An abbreviated show live from the Westwood One Laundry Room thanks to Stanley Cup Hockey.
June 2, 2019
The floods and tornadoes of the Midwest are enormous and ——under reported. Walter can't believe that WEATHER is not the lead story in every newscast on radio and TV.  John Wetherbee, meteorologist has the latest updates and KMOX files a special report. Then Walter takes phone calls about your STORM STORIES.
NEXT Bad Camp stories. Summer camp isn't always so great. Skunks! Raccoons! Swimming in a lake!
NEXT THE USUAL EDITION visits a Brooklyn Enclave where sincere women actually believe HILLARY WON and they are living their lives accordingly.
FLORIDA STORIES FROM JAMES PARKER
HEARTLAND HEADLINES FROM JAMES COPELAND
GARY R NEL'S dilemma. What to say to the doctor who, after examing his daughter, refused to just have a look at a bump on his hand?
Hilarity ensues.
May 26, 2019
Revealed: Why ONLY a Jersey guy could have written Game of Thrones.
Game of Thrones is about trouble with the neighbors, so is all of Jersey

Keeping meat from falling into the BBQ. Making the perfect Burger.
Listeners fight over the correct way to cook hamburgers
The USUAL EDITION looks deep inside the public radio closet.
FLORIDA STORIES. True stories that make Florida famous
Constant Weather updates during Tornado season from a real meteorologist.
Gary R'Nel's Dilemma: Parents fight with other parents. They forbid their kids from playing. Should you step in?
TAKE A RIDE THROUGH STERLING VILLAGE. Keep you hands in the car as you hear about every town and village in Sterling land thanks to tour guide, James Copeland.
May 19, 2019
A PGA golfer peed on national TV !
Have you had to pee in public? As San Francisco and Seattle encourage residents to live on the streets and pee in public, have you ever had no choice but to just go? Walter talks about secret places to go (hotels) and the magic words for getting into any restroom, "I'm diabetic and i need a bathroom now". Callers share their stories of wetness.
Next Chris Elliott travel expert warns of the importance to actually check a real map when booking a AIR BNB.
NEXT Graduation Day. When we graduate we are supposed to stop seeing all of our classmates except for maybe 1 or 2. Social media has extended our high school relationships beyond graduation. AND THAT'S NOT NORMAL. It's unnatural. Mistakes made while pursuing high school flings—past the age of 40! Disaster.
NEXT Walter studies grown up behavior by review the TOLLWAY ROADS NEWSLETTER. All of the plots against us.
NEXT GARY RNEL's dilemma. He paid for dinner for a couple who has just filed for bankruptcy. They are outraged! What do do?
PLUS
JOHN WETHERBEE WEATHER
VELO HOULE AND CIVIL WAR GOLD
JAMES COPELAND AND HEARTLAND HEADLINES
Sound engineer Matt DeSantis.
Webdesign by HARRIS MEDIA
May 12, 2019
MOTHER'S DAY SPECTACULAR…
How did your mother embarass you? Callers go wild with their stories. NEXT What secret are you keeping from your mother?
Next, study shows that to be happy, make more friends. Walter reveals that he doesn't want anymore friends.
Walter asks for photos of where you are listening, most of the photos come from THE POLICE! Walter asks for
a sticker for his car from a policeman so he won't get speeding tickets.  AND should we have a pot luck, covered dish
event with MIDNITE MISFITS?
Plus
WETHERBEE WEATHER
THE USUAL EDITION
VELO HOULE ON THE SECRETS OF OAK ISLAND
May 5, 2019
STERLING ON SUNDAY revealed what it is like to gamble on the ponies with President Jimmy Carter.  Walter shares the story of Derby Day at the Maker's Mark distillery, and then sharing betting tips with President Carter.  Next, why GAME OF THRONES is a hit! We need heroes fighting in pitch blackness.
ROBERT CLOTWORTHY the storyteller from THE CURSE OF OAK ISLAND sums up this season's finds. Exclusive interview!
Walter has a problem. How to get out of a family vacation which means sharing a house with in-laws!  Listeners have ideas!
Gary R'Nel's amazing dilemma is how to tip a bad waiter who insulted him!  SHOULD WE HAVE A COVERED DISH PARTY?
PLUS
HEARTLAND HEADLINES
FLORIDA STORIES
WETHERBEE WEATHER
MIDNITE MSIFIT SECRET CODES
April 28, 2019
(Program is joined in progress)
Walter explains why we have never gotten along, why a nation of people who disagree and why we will never get along. It's about the food.  It goes back thousands of years to how we, as humans, had to divide resources. Walter wisely also suggests that we are a far less divided nation today than ever before, we had a Civil War!
Next Walter is annoyed at a neighbor who won't let his daughter use her bathroom? What should he say to this driveling neighbor?
Next, Companies are forbidding all physical contact with other employees. NO HAND SHAKES. Walter says FANTASTICO, listeners disagree.
GARY R'NEL's dilemma is that he has a friend who is getting married for THE THIRD TIME and he doesn't want to give a gift at all.
Listeners….disagree! Hilarity ensues plus:
FLORIDA STORIES FROM JAMES PARKER
HEARTLAND HEADLINES from JAMES COPELAND
THE USUAL EDITION 
WETHERBEE WEATHER
VELO HOULE REPORTS ON THE CURSE OF OAK ISLAND
April 21, 2019
THE TWIN SPIN WEEKEND. Passover! Easter! Everything in one weekend. Every horrible relative within striking distance.
Easter eggs! Every caller can ID the voice of a crazy televangelist and win a PASS TO SKIP THE NEXT FAMILY EVENT!  Shockingly the callers do very well in this contest.
Next JACK MYERS say that the voice activated TV channels like NETFLIX MIGHT BE IN TROUBLE because of privacy issues!   They may no longer be able to gather data on their viewers and that means, they have not data to sell—no profits. All your favorite TV shows could vanish. Jack owns www.mediavillage.com. get the inside gossip on all media quadrants.
The secret to a successful marriage. Walter celebrates his wedding anniversary and reveals the secrets to a successful marriage.
"Don't get involved" says Sterling.
PLUS
MIDNITE MISFIT SECRET CODE
THE USUAL EDITION—TOUR THE FACILITY!
FLORIDA STORIES, TWO EDITIONS
HEARTLAND HEADLINES From James Copeland.
VELO HOULE REVEALS THE SECRETS OF OAK ISLAND
April 14, 2019
Walter asks …what was the worst way you have been fired? He revealed that he found out he was fired when his ID Badge wouldn't activate a turnstile at the office building! Listeners shared their horror stories at being fired for no good reason.
Next…Gary R Nel was at Dunkin' Donuts and offered to pay a sad-sacks coffee. The guy accepted and also ordered half a dozen donuts in a box! Gary withdrew his offer for coffee. Listeners reveal if Gary was right or wrong.
Jill Brooke has launched a new business called www.flowerpowerwithjill.com. A fun site with a remarkably fresh view of fresh flowers.
She shares which flowers work for bedroom action.
At Midnite Walter reveals the new rules for indoor Water Parks.  Men over 25 must be required to wear shirts when standing in line for food.
PLUS
—HEARTLAND HEADLINES done in the style of KFWB Los Angeles
—FLORIDA STORIES from James Parker
—OAK ISLAND TREASURE UPDATE
—COACHELLA ON THE SCENE REPORT. IS THERE NUDITY/
It's the Freaking O'Jays man.
April 7, 2019
HAUNTINGS. The place where you feel the ghosts. Walter felt the most ghost in the lobby of the Kansas City HYATT where 100+ people died when the building collapsed on them.  Callers feel ghosts —almost anywhere!
IT'S SEX. Walter says forget the therapy, people break up and get divorces when the sex-o stops.  GARY R'NEL'S dilemma. Should he have stopped a mom from from yanking her kid around in a store?
PLUS
THE USUAL EDITION
HEARTLAND HEADLINES
BIG WEATHER FROM WETHERBEE
FLORIDA STORIES FROM JAMES PARKER
March 31, 2019
Walter reviewed how to manually fire audio files and hit the vocal of ASK THE LONELY. Then he fought his better instincts and played audio from a bisexual model who says over and over "I prefer to give than receive love in bed." He realized he didn't have better material to share for the beginning of a show serving giant affiliates. He played this audio throughout the show.
Next Walter discussed the strange places in America that have no zoning—the places you always wind up when you're lost. He saw a Storage facility that was award winning?  What kind of awards do they give to storage facilities? BEST eviction procedure?
Randy West, former announcer for THE PRICE IS RIGHT discusses THE PRICE IS RIGHT LIVE.  Yes, the show travels America on the weekends and crowds show up to play THE PRICE IS RIGHT live!  Good weekend fun.
Finally Walter shares his stories about PRIVATE WORLDS. Did you know about the SHERLOCK HOLMES society?
Hilarity ensues.
PLUS
THE USUAL EDITION
FLORIDA STORIES WITH JAMES PARKER
VELO HOULE'S REPORT ON THE CURSE OF OAK ISLAND
HEARTLAND HEADLINES ON THE ROAD WITH JAMES COPELAND
PRODUCED BY MATT DESANTIS.
March 24, 2019
it's the freakin' O'Jays, man.
Walter explains the truth about the Russian PROOOOOBE. The kids who allegedly were bribed into USC and other schrools now say that their parents ruined their lives! How did your parents ruin your life? Walter's wouldn't let him go to Spring Break.
Next, trouble with Boners. Denise Richards shares that her husband is revealed to be extra big. When he has boner problem, it's a bigger problem. Walter shares the solution which is found at www.forhims.com/sterling
Then scary junk mail and phone scams.  No, no one is watching your porn habits. Don't fall for it. Next. Gary R'Nel was forced to pay for the hamburger he sent back! The police were called. What to do?!
DILEMMA.
March 17, 2019
There is nothing wrong with parents giving schools CASH to get their kid admitted to college. Private and Parochial schools have always done it. Parents make "donations" all the time to gain admissions. Fraud?  What?
Recommendation letters say a kid is "great" at some skill when they are "good" at best? All the whining about the need for more money for education and Lori Laughlin gets arrested for giving money to higher education? INSANE. She should get arrested for her acting on THE EDGE OF NIGHT. Callers voice their stunning agreement with Dr Sterling
NEXT How exactly does Viagra work'?
NEXT Walter plays a lot of Neil Rogers airchecks and celebrates the career of WLS' Peter Bolger.
GARY R'NEL's dilemma: He wants to spend 100 bucks for a wedding gift, his wife wants to spend 300. One caller says that Gary shouldn't even be on the air.
The monkey appears twice during the show!
THE USUAL EDITION returns with a special ST. PATRICK'S DAY SALUTE. Only public radio could make the Celtic holiday boring
HEARTLAND HEADLINES mimics the broadcast style of a man who made a radio station only his wife could hear——in England.
March 10, 2019
It's a full show! First Walter applauds Air Canada for forcing a lactating woman nurse in the bathroom. His argument is that the other passengers are uncomforable and don't know what to say to the breast.
Next Alli Romano an expert on media things from Mediavillage.com says that podcasts are taking over the media landscape, at least half of all Americans have downloaded a podcast.Walter says it can't be true.
Then Walter starts to tell stories of HR people mis-behaving. "One HR chief sent cocaine through interoffice mail!"
Now. WE LEARN that American's are having less sex than ever before. Walter says it's because of Netflix. Hear why!
Next Walter reveals that his MAKE MISFITS GREAT AGAIN was censored by Facebook. Walter had to prove he wasn't a foreign agent to boost the post.
Gary R'Nel's Dilemma this week is how to express his road rage without getting killed. Hilarity ensues
PLUS
THE USUAL EDITION
HEARTLAND HEADLINES
FLORIDA STORIES
VELO HOULE'S UPDATE ON THE CURSE OF OAK ISLAND.
March 3, 2019
Live from the Westwood One Laundry Room!
February 24, 2019
Live from the Westwood One Laundry Room!
February 17, 2019
 HILLARY DUFF, STAR OF YOUNGER is expressing her breast milk. A co-star asked for a taste. He loved it! Walter wants to know…if your wife shared her breast milk with a co-worker, is that cheating? Whose breast milk would you like to sample? Walter says, Jennifer Connelly !!
NEXT Jill Brooke reveals FLOWERPOWERWITHJILL.COM a way to save your butt for your failed Valentine
NEXT Kent Harrington a former CIA guy answers CIA guy questions. Do you ever really get out of the CIA?
NEXT A GENERAL MOTORS lifer reveals secrets of what happens when the business moves to Mexico. How is it to work in Mexico where workers are bused in from shacks to work on the line? Fun times.
Plus the Sheftic Monkey appears at any time.
February 10, 2019
JUSTIN BIEBER AND HIS WIFE HAILEY BALDWIN after 5 months of marriage reveal……….marriage is hard!!! marriage is a lot work!!!! Walter says to stay married it's vital to never shop for food with your spouse and have no dealings with your sister in law.
NEXT DIANE DIMOND author of the definitive book on MICHAEL JACKSON says that in her opinion she believes he definitely did molest children. Walter says if the predator is brought to trial so should the kids' parents for failing to protect the child
NEXT JUDY FROM TEXAS HAS A TERRIBLE JOKE.
GARY R'NEL'S dilemma is should his vegetarian daughter go to a bridal shower where they refuse to serve her vegetarian food?
PLUS
FLORIDA STORIES…a woman nurses and alligator!
HEARTLAND HEADLINES DONE ON THE STYLE OF ABC NEWS IN 1968!
OAK ISLAND UPDATE
February 3, 2019
Celebrate the Superbowl with conversation about CELEBRITY DIVORCES. Imagine having to listen to these people? Of course you would get a divorce. Walter talks about the real reasons people get a divorce: They shop for food together.  Never shop for groceries together. Disaster.
PLUS
—FLORIDA STORIES, two parts!
—HEARTLAND HEADLINES. News from the Heartland about DIVORCES
—A guy in Utah had 6 marriages.
Gary R'Nel's dilemma…Should he tell a married friend that her husband is thinking of getting a divorce? Hilarity ensues.
PLUS the mystery voice is no longer a mystery,…it's JANUARY JONES. One lucky listener won a prize announcement.
PLEASE download the podcast MIDNITE MISFITS from iTunes.
January 27, 2019
Hour 1, Walter reveals a flooded laundry room. Fortunately nothing is damaged and the floors are not carpetted. BUT the smell is with us. Listeners share how to remove the smell
BONUS: Walter finally starts to ask professional talk show host questions. For example "How's the tour going"? Listeners happily answer.
PLUS FLORIDA STORIES PART 1, ARCTIC VORTEX WEATHER
Hour 2 VICTORIA'S SECRET is that sales are down. Walter says it's BECAUSE of the "fashion show". What do old actors have to do with fashion, why are they in the front row?
NEXT PARMA OHIO IS THE SOURCE OF ALL TRUTH. Walter reveals why the women of Parma determine the elections for the nation.
PLUS Florida stories part 2, THE USUAL EDITION STARRING RANDY THOMAS.
Hour 3. YOU DON'T FIT IN AND THAT'S FINE BUT you have to get in the room. Walter tells you why you must look the part to  present your ideas and get rich.
PLUS Bad college radio. sample and LESBIANS IN SPACE.
GARY'S DILEMMA. How do you stop a fellow dinner from talking on their cell phone? Hilarity ensues.
January 20, 2019
THE CURSE OF OAK ISLAND, THE NUMBER 1 SHOW ON CABLE. Walter says the curse is that there is no treasure there at all. The riches found there are the commercials sold by the HISTORY CHANNEL and the plugs for the construction equipment company owned by the brothers who own the Island!  Veelo Houle, Oak Island expert says Walter is very wrong, he believes the Holy Grail is on Oak Island left by the Knights Templar.
NEXT
THE SHEFTIC MONKEY interrupts the show when a caller disturbs the monkey. Only the song HAPPY BY BLADES OF GRASS calms the Sheftic Monkey.
NEXT THE USUAL EDITION, Shutdown edition. No Croissants for Public Radio workers—oh no!
NEXT Walter asks what to do about his friend who UNFRIENDED him from Facebook? How to respond? What to say? Listeners offer a spectrum of advice and try to guess the MYSTERY VOICE. The Mystery voice woman celebrity says "I like nips" Fantastico!
NEXT HEARTLAND HEADLINES done in the style of KFAB Omaha in the 1960's presented by the formidable JAMES COPELAND.
NEXT GARY R'NEL has a Dilemma and it's a Nelly. How do you tell the parents with the screaming kids in the restaurant to shut the kids up?
AND THE MONKEY PLUS James Parker's Florida stories and the only broadcast presenting METEOROLOGIST WEATHER on a Sunday night during a blizzard.
Attention radio execs: When it's snowing outside, talk about the snow. Not sports. Snow.
January 13, 2019
Walter's car stalls out at 20 miles an hour. What to do? Misfits give answers. Something about cleaning the carburetor. Plus a brand new mystery…a woman who loves breasts!  Next Walter explains the difference between humans and racoons.  News…Walmart bans woman who drives the electric scooter while drinking wine from a Pringles can.  And Walter finally reveals his secret history with Kato Kaelin.
January 6, 2019
Walter has New Year's resolutions for others.  Walter presents THREE resolutions for other people: He believes there should be a SILENT, NO TALKING line at stores. No talking to the cashier. Let's get out of the store.  Then Christmas Cards without last names are a security issue and should be banned. Showing just the kids and first names but no parents or last names is rude. Finally, Walter wants Scarlett Johannson to be much quieter and nuder in 2019. NEW YEARS RESOLUTIONS FOR OTHERS.
The show features THE USUAL EDITION, our review of public radio. Then News from the Midwest where the ball didn't drop on New Years a feature written and produced by James Copeland.  James Parker presents FLORIDA STORIES and they are wackier than ever.
A NEW FEATURE starring Billy from Pittman on how to be a real parent…if you are a NEW PARENT it's just two diapers for traveling you don't need a saddle bag.
THEN GARY RNELS dilemma….how do you keep a doctor on your side while telling him he's 90 minutes late and that's not ok.
Write to walter@stacysentiretreeservice.com
December 16, 2018
Walter is afraid the monkey will show up at any time during the show. He then explains that there is more to the #MeToo movement than bad men.
There are women who are "players" who use their wiles to get what they want and hurt other women and men. Plus, Walter explains that the most dangerous people in our culture are those with no roles. Those people seek excitement in all of its forms.
Next, rich guy Jared Gillian on a bad phone line explains that married people SHOULD keep separate checking accounts. He also believes that you SHOULD run a credit check on a person before becoming seriously involved.
Next Walter talks about his hardest choice: Gabrielle or seat 1B. Spending Christmas alone in Rome. The choices are overwhelming.
Then an ICE ROAD TRUCKER calls in from the road in Alaska listening on KBOB!
Then during MIDNITE MISFITS, we review how dumb articles are that help us be alone on the holidays. All the articles do is tell us how to have virtual families! There is nothing wrong with being alone.
Gary R'Nel's dilemma of the week…should he bail on a cruise because a couple he hates has been invited to join in?
Callers decide! Their thoughts are shocking.
December 9, 2018
The KSDB team led by James Copeland presents their parody of college radio. College radio is horrible.
Catherine Miller top attorney represents parents who are annoyed with public schools. Walter shares his story about dealing with the public school bus. What recourse does he have?
Elizabeth Tomison is a retired Special Tech SGT in the Air Force and she wants Sterling to wash the her fatigues…in the Laundry Room studio.
We hear THE USUAL EDITION our parody of public radio.  Plus Gary R'Nel's dilemma…do you take a cheap gift and put it in an expensive store box?
December 2, 2018
Walter is confused by the self-censorship of the song BABY IT'S COLD OUTSIDE. He asks what was the dumbest thing your boss ever did or said?
Robert Clotworthy the narrator of THE CURSE OF OAK ISLAND and ANCIENT ASTRONAUTS discusses his work as a great storyteller.  He reveals why there are no women on OAK ISLAND. Plus he gives fascinating details on how VIDEO GAMES are voiced.
Walter takes phone calls about dumb things the boss has said at work. Wacky rules. Frustrations in the workplace.
NEXT, our parody of public radio: The Usual Edition starring Randy Thomas. Then The Deplorables starring A-OK and LESBIANS IN SPACE…do you Kegel?
Gary Rnel asks…should he feel guilty using the FAMILY BATHROOM in the department stores. Listeners say………….no!
Plus, do not annoy the MUSIC MONKEY!
November 25, 2018
Exciting post holiday show. Walter reveals he was made to sit at the lowest of the card tables with a chair with no arms at Thanksgiving. Then he was attacked for criticizing the placement of a painting on his sister-in-law's wall. Hilarity ensued. Next, THE USUAL EDITION starring RANDY THOMAS.
Hour two…Jay Tyson, Rocky Mounted Policeman, stand up comic and EMPATH reveals how his EMPATHIC abilities solves crimes!
HUNTER SWIFT shares how to actually get a deal on a new car. Walter shares how all of his car buying experiences have been awful
Gene Hartigan of AfriMedNetwork explains why people on THE IVORY COAST can make us sick and what he is doing about it. Great charity
NEXT Gary RNel explains that he feels guilty that he uses EXPECTANT MOTHER PARKING SPACES. Listeners agree he should use them.
PLUS FLORIDA STORIES from James Parker. PLUS The Deplorable. PLUS LESBIANS IN SPACE.
November 18, 2018
79% of all adults 18+ receive financial help from their parents. Walter says that's fine. You made the baby you pay for it for life. Just like adopting a cat. You adopt, you feed it——forever.  Yes, buy them a pool, an Audi a Porsche. That's the deal. Thanksgiving means your children will come home and ask for money, they don't want your Brussel sprouts.
Walter reveals the time he made the mistake of inviting Aunt Martha for Thanksgiving diner to the displeasure of his mother. His mother got even, the details are amazing. Next Walter reveals how 100 Frozen turkeys were delivered to a Manhattan radio station and no one would take them off the truck. A lesson in Unions and Prize winners.
Midnite Misfits. Gary Rnel presents his dilemma…how do you tell the host that you don't like their turkey and would reallllly like it cooked a different way? Midnite Misfits call in.
Walter would like to send you a Christmas Card, send him your real address and it will be yours: Walter@stacysentiretreeservice.com
November 11, 2018
DO YOU KNOW A HERO? Walter says they are made-up by mankind's imagination. We get along when we agree on what a hero is. Today, there is no agreement. The same person who would have been a hero in the 1960's—to everyone, would be sent to the hell of HR today.
WANT TO SELL STUFF, come to a New Jersey turnpike rest stop.  Have a look at actual customers. They don't want craft beer, they want crates of beer.
Jared Dillian, a rich guy from Jersey explains that your credit score will now be determined by how fast you pay AND how much you keep in your checking account and how little you overdraft. Plus the FIRE movement…save tons of money and retire at 35. Jared thinks consumption is king.
A life of deprivation is no life.
Walter then reveals that he has often said that people with no role in culture will seek excitement in all of its forms. The Thousand Oaks shooter tweeted "I'm doing this because I am bored."
Plus a live report from Chico California on the status of the deadly fires through the state. We hear from an actual fireman not some loser reporter. A fireman who cries on the air.
Next Gary R Nel shares his dilemma. Should he yell back at rude motorists? Next THE USUAL EDITION, THE DEPLORABLE, LESBIANS IN SPACE.
November 4, 2018
Have you ever been fired? The real reason most people get fired is not for "cause" it's because the person is just not liked. Walter reveals the one thing you must never do when you get fired.
Next Walter explains that suburbs are the breeding ground of mass shooters. It's because men have little or no role in the suburbs.
We hear THE USUAL EDITION with guest star Charlie Van Dyke as the host. AJ AOK explains why Dollar Tree is your best bet "the other Dollar stores are just stores." LESBIANS IN SPACE hit the streets with probing questions about who is hotter?
Gary R'Nel, famed talk show host discusses why he embarrassed himself in Vegas with a one dollar bet. PLUS FLORIDA STORIES, all the good stuff happens in Florida. Walter reveals his new TV obsession: Zumba's Just Desserts on networks. Gotta see it.
October 28, 2018
Walter is afraid he is going to get fired. He looks for clues. Are you about to get fired? Callers tell their trouble-at-work stories.
THEN in celebration of Halloween, the director's cut of the radio crime drama, ASBESTOS FALLS. Hear it by downloading this podcast:
October 21, 2018
Walter explains how radio advertising sales work: They are transactional. The seller offers commercial time for advertiser messages. The advertising agency buyer asks, "Do you have Jingle Ball tickets?"  Voila, a transaction.
What do you do the first time an 8th grader cuts class? Listeners offer Dad Walter advice on handling the errant daughter.
What would you move to your new house if you won a billion dollars? Not too interesting.
We do a deep dive into the meaning of the word ARKLATEX as presented in the Louisanna Hayride show by famed radio announcer Ted Abrams father of famed radio executives Kris and Keith Abrams. If you have a Massachusetts license, don't go there at night.
Midnite Misfits are celebrated and given a secret decoder message.  We welcome KFBK Sacramento  to the stunning lineup.
PLUS
• Florida Stories from James
• The Usual Edition
• Commentary from a Deplorable
• 2 episodes of LESBIANS IN SPACE.
• JUDY from Texas has a horrible joke
Underwritten by Meredith's PewSlimes at Etsy.
October 14, 2018
KARN's Kevin Miller reveals he took a vacation during hurricane Michael to the Panhandle of Florida last week, yet was not harmed. Walter Reveals that his worst vacation was the Curacao where hotel guests threw up on his shoes.  Then Big John Howell morning star of WLS talked about the challenges of running for Governor when nobody cares that your only issues is the other candidate. Walter finishes the Curacao story and reveals that the place is evil because…well, listen!
Next Florida Stories, LESBIANS IN SPACE, The usual edition and the NEW FEATURE…THE DEPLORABLES STARRING A-OK.
Gary Rnel joins the midnite misfits to say that his dilemma is should he return a shirt that he's already worn? To Neiman Marcus!?
Then Walter says that his daughter is not "challenged," she's retarded, let's call it what is is.
October 7, 2018
Jared Dillion, a rich guy, reveals that buying LOTTERY TICKETS is a good investment, who knew!?
Meredith Sterling has started a slime business, PewSlimes at Etsy. She reveals the secret appeal of slime to Tweens. Walter reveals that women don't seem  to buy lemonade when sold by young girls but men do!  Next a Norwegian tells scary stories of paranormal events, it is Halloween time.
Then FLORIDA STORIES. HOUR TWO – THE USUAL EDITION starring Rachel Goldstein Shabazzz.   Victoria Bullis, Psychic is fairly confusing but we love her. Gary R'Nel has a dilemma which is that his daughter was a telemarketer now he feels guilty hanging up on telemarketers! Walter shares his white light experience and now everything is different.
October 2, 2018
Walter fills in for the great Dom Giordano on WPHT, Philadelphia.  Hilarity ensues.
September 30, 2018
Walter notes that we are on three gender tracks: Historic roles. Ideal roles. Real world roles. His daughter, 15, had a bad time at the homecoming dance. No boy asked her to dance. All the gender roles and equality come crashing down at a high school dance.
Florida Stories. James Parker is the editor and host of Florida stories, a Sterling on Sunday exclusive. James explains how he finds the stories and the most disgusting story to this day!
Trouble at the drive-thru. Is the fast food drive thru the ultimate flashpoint of the battle of the genders? Probably not. Walter had trouble getting ice cream into the Orange Julius.
THE USUAL EDITION starring Rachel Goldstein Shabazz reveals new secret recordings of The Deplorables.
MIDNITE MISFITS Gary R'Nel reveals his moral dilemma: Should he shove people out of the way in Costco to get free samples?
Walter gives the code that can only be decoded with the MIDNITE MISFIT membership card.
WIN A PROMO:  Callers get to win a promo of Charlie Van Dyke announcing their next move in life … going to work, coming home, now professionally announced!!!
September 23, 2018
Walter explains the power of a TV on air promotional announcement—a promo and offers amazing examples. He suggests that we all need our own promo. A promo to announce that you're coming home or that you're on your way to work!
The darkness of the suburbs. Suburbs are hated by men. Suburbs are the primary cause of divorce because…well just listen!
Research shows that the sense of malaise and sadness you feel in the suburbs is because of the suburbs!
Florida Stories!  Plus the Usual Edition which reveals the single most important story of the week..a socialist candidate wins in Brooklyn.
Midnite Misfit stories about retail excitement.
September 16, 2018
Live from the Westwood One Laundry Room (complete with running dryer).
Walter is live from the laundry room and the dryer has to run because the kids' clothes have to be done in time for school.
Rod Stalvey owner of WGTN Myrtle Beach presented an up to the second on the ground report on the situation resulting from  Hurricane Florence. He is furious that the state shut down long before the storm hit.
A retail expert answered Walter's puzzles…why isn't every store like the Apple Store? Why doesn't Macy's know how to staff cash registers?
What the hell is in-store pick up, isn't that just shopping?  At Dollar General everything is a DOLLAR AND MORE! That's just a store.
Next we learned about trouble with landlords.
What do you steal? Talk show great Gary RNel reveals he may have stolen apples at the self check out by declaring a cheaper type of apple than he was buying!!!!!  Walter Steals Splenda from restaurants and dishwasher pods from YOUR HOME.
FLORIDA STORIES is the hot feature including how a FLORIDA mom beat her kid for not doing his homework.
Discover WHY half the public schools in the US are not air conditioned. Secrets REVEALED !
September 9, 2018
Walter cheers that Chicago Mayor Rahm Emanuel is not running again. Walter says that the murder rate in Chicago is caused by the horrible pizza.  This year, Chicago has had more murders than LA and NYC combined.
Brilliant updates on the hurricanes off the coast of the Carolinas and the Typhoons in Guam from Meteorologist John Wetherbee
Merle Temple, DEA Agent retired says that the reason heroin flows in freely to the US is "We need to build the wall" and everyone is getting a bribe. He thinks the whole 9/11 story is suspicious.
Lil Barcawski says she can snag a woman and recruit her into Lesbianism easily because American men are not spontaneous enough and do not know how to talk dirty in bed.
THE USUAL EDITION starring Randy Thomas explores the nature of non-stop Anger and placed a microphone to capture the actual words of the DEPLORABLES
"ASMR" videos are the hot Internet thing. They feature hours of sounds that are designed to relax you or sex you up. Samples played. It started with Bob Ross. MILLIONS of people watch and listen to these videos.Walter tells stories about his buddies Paddy Brown, Captain of the NYC Fire Department and James Paul, executive at Carr Futures.  Both were murdered by vicious thugs on September 11, 2001 at The World Trade Towers.
September 2, 2018
Special Walter's birthday edition live from the infamous Westwood One Laundry Room!
Walter is shocked that Aretha Franklin's Funeral host said that Ariana Grande's name reminded him of a menu item at Taco Bell. Why would a minister even know about Taco Bell? Minister apologizes. BUT would that be enough if you made the same mistake about an Hispanic name in the workplace? NO it wouldn't
Next Walter confesses to binge watching Gordon Ramsey fillet a Halibut. For hours he watched Ramsey yell at contestants on Master Chef trying to fellet a Halibut. Then Walter Wondered…..will future archeologists see the show and imagine that Master Chef represented a religious ceremony with sacrificial knives and animals and a high priest who orders follows around with his British accent?  Then he watched SAY YES TO THE DRESS. Walter is concerned about their health and the definition of Medical obesity.
Walter was forced to share a vacation home with his in-laws. He made the mistake of ordering a movie in the rental home. The management office called his sister in law, the owner was upset. It was a Sunday. What else do landlords know? Is there no rest? Walter will hear about this from his in-laws——forever.
LABOR DAY means worst jobs ever. All-nights at a country station with no commercial breaks defines Walter's idea of the worst job. What's yours?
August 26, 2018
Talk radio pioneer Alex Bennett holds down the fort as Walter takes a well deserved night off.
August 19, 2018,
Made possible by www.homesick.com promo code Walter. Great candles.
Walter reviews Public radio the way public radio reviews other media…with distain and concern. PLUS the latest from Rachel Goldstein Shabaz and THE USUAL EDITION. Deep concern. Next Walter shares his experience on Sunset Boulevard with a happy ending masseuse.
Jennifer Romolini wrote the ultimate guide to finding a job as a misfit. For 10 year she was a waitress in a nothing marriage and wanted more. She reveals how she escaped a nothing life and made a spectacular life working for Shanda Rimes and writing for big magazines.
RANDY WEST, an announcer for dozens of TV shows and a Hollywood Gadfly explains that Kelly Ripa is not Michael Strahan's friend—at all. She won't go on his game show. Plus…is Alec Baldwin's Match game going to be renewed? Maybe not! Will Alec Trebek really quit Jeopardy—listen and learn.
James Copeland and Zach St Claire are students at Kansas State University and they created the ongoing serial ASBESTOS FALLS. They explain, Live, how it happened and present the FINAL EPISODE OF ASBESTOS FALLS. available now on the MIDNITE MISFITS PODCAST
FLORIDA STORIES. Whacked news from Florida every week!!!
Gary R'Nel joins the MIDNITE MISFITS and shares the dumbest story of the week.. North Carolina finally bans spanking in school. IT'S 2018
Walter says there should be AC in school, no homework and certainly no spanking. Misfits react.
PLUS The weekly secret message that can only be decoded with a MIDNITE MISFIT membership
August 12, 2018
Live from the Westwood One Laundry Room (naming rights available)…
Just like your place of work, Walter's equipment stopped working at the beginning of the show—the phone system failed on a call in talk show! That went on for an hour.
— Angelina Jolie wants more money from Brad Pitt and they aren't even divorced!? Walter thought she was an independent woman with her own needs and goals? Really?  People divorce over the dumbest things, not the big things.
— How was your vacation? Vacation troubles? Dealing with the inlaws.
— Lil the Lesbian answers Lesbian questions about Lesbian Weddings.
— Dumb commercial spokespeople, Robert Loggia selling orange juice, really?
—The Florida Report. Wacked news from Florida.
—Jim Kelly reveals how he annoyed THE WHITE STRIPES when he covered LOLLAPOLOOZA in Chicago.
—ASBESTOS FALLS episode 11 !!!
—Michael McMenamin's fascinating book APPOINTMENT IN PRAGUE. Did a woman kill notorious Nazi Reinhard Heydrich?
— Judge Judy backs Walter up…Women are bad negotiators for money at work. HR is the death of any company.
August 5, 2018
Live from the Westwood One Laundry Room
July 29, 2018
Meredith Sterling explains the number 1 google HOW TO trend search: HOW TO MAKE SLIME? What is its appeal, which slime is hot? Which slime is selling. Starts a new feature SLIME FUTURES.
John Kellie listens on the WMAL FM Feed in China. John reveals that the people of China have no Internet access and therefore no opinion about our tariff nonsense. He says that Chinese food in China is ok if you DUCK TONGUE hmmm crispy!
LIL THE LESBIAN reveals if South Park is right about scissors.
NEW FLORIDA REPORT. Every week a new report from Florida. This week featured at 78 year old Fort Lauderdale woman who was denied cashing a 120 check because the source of the funds seemed "suspicious."  She also has a Phd, was a bank manager herself and known in the community. Did we mention she is Black?
ASBESTOS FALLS episode 9. Particularly sick summer vacation serial. Much better than THE Serial thank you James Copeland.
MIDNITE MISFITS do things alone.  And we are better employees.
STERLING EXPRESS. New feature. To stay in touch during the week, Walter will call YOU. If you would like him to call you send him an email
walter@stacysentiretreeservice.com
July 22, 2018
BIG SHOW
Walter's neighbor Bruce stops by to berate Walter for failing to be a good neighbor. He calls Walter and arrogant East coaster. An epic fight ensues.
NEXT Airplane horror stories. An entire plane was de-planed because one passenger refused to check her bag! A 4 hour delay. You call in with your horror stories. SUMMERTIME fun.
NEXT Airplane horror stories. An entire plane was de-planed because one passenger refused to check her bag! A 4 hour delay. You call in with your horror stories. SUMMERTIME fun.
Alan Stock from KXNT reveals why the MGM corporation is suing the VICTIMS of the mass murders in Las Vegas. He also shares insider information about the event and what life in Las Vegas is like now.
THEN LESBIAN TELLS MEN HOW TO PLEASE WOMEN. Lil Kocawski reveals. A real Lesbian with real tip of the tongue advice.
EPISODE 7 of ASBESTOS FALLS our amazing Summer serial. Amazing.
Then.. MIDNITE MISFITS DO NOT BELONG in open space offices. Finally science agrees. It's bad for everybody. Walter Shares secrets of writing a resume to get the job. NOT ENOUGH TIME ON THE AIR!!!!:)
Please find out more about www.simplisafe.com/walter and www.legacybox.com/walter THANK YOU
July 15, 2018
Hour one, Walter reviews Airline hell. No more peanuts? Bathrooms too small for breathing? Useless FAA? It has to stop.
Sears closed its last store in Chicago today. Macy's, Lord and Taylor and all the major retailers except Walmart are closing stores. Walter says it is not because of Amazon it is because the stores pushed us out. Big stores are miserable places. Plus the APPLE store show us all how it could and should be when we shop in a store. Why haven't other retailers copied from the Apple store? Oh…too late they are closing.
Introvert or Extravert. Turns out Introverts make better contributions to the workplace and are more accurate in their work. But why are extroverts charge. Walter reveals all.  Leave your comments at walter@stacysentiretreeservice.com and listen to the podcast …MIDNITE MISFITS. 
July 8, 2018
Were you trapped in a scary place as a kid? Did it traumatize you to this day? Callers reveal all.
New edition of ASBESTOS FALLS…Firesign Theatre for 2018.
Most irritating habit of your spouse!  Three types of WalMarts! All is revealed.
Plus Walter tells the story of Suzie Sheets and the Laugh Box on his worst first date.
July 1, 2018
—There is no point in talking about Immigration unless a Native American joins the conversation. The 
co-founder of the American Indian Movement, Cyde Bellecouret
tells us the reality of Natives treated as though they are illegal aliens. His story will stun you…he says "I have been waiting for some media to call me for the past few months. They don't want to hear our truth." But you and I do.
—Stupid schools. A school in Greenwich Village segregates by race! A school in Connecticut awards an ADD kid a prize for "most likely to be distracted by a shiny object." Where is the air conditioning?  
—EPISODE FOUR of ASBESTOS FALLS. Did you do drugs in the 70's and listen to FIRESIGN THEATRE? It's like that.
—72% of American workers would take a promotion without a raise. Walter reveals his secret knowledge as a former "suit" He says, you're nuts to take a promotion without a raise.
Meredith Sterling's 13th Birthday !!!! 
June 24, 2018
The big news is a wealthy woman got thrown out of an overpriced restaurant. Sarah Sanders was refused 28 dollar fish. What have you been thrown out of?  Walter reveals he's been thrown out of two pediatric dentists, a hospital and a fancy hotel. Listeners reveal what they have been thrown out of.
Beth Libeling reveals how to have better sex. Buy the Magic Wand she says.
MR MCFEELY from MR ROGER'S NEIGHBORHOOD answers your Mr. Rogers questions. They took 12 hours to shoot 15 minutes!!!
Midnite Misfits make the most money. How to get a better job and get a raise. Being a misfit helps. PLUS John Wetherbee weather, new feature.
June 21, 2018
Walter fills in on the Jim Bohannon Show on Westwood One.
Walter asks "have you ever helped a celebrity?".
As it turns out many listeners have.  Here's a sample.
June 18, 2018
What has your father done to embarrass you?!  Happy Father's day.
Meredith's opinion is that there should be no tests in school.  The University of Chicago is making admissions tests optional—Bravo.
Hear the Usual Edition from public radio. Sort of. Did Trump cause the Hawaii volcanoes?<
Stephanie Osborn, former NASA scientist reveals how NASA could lose vital data about the moon landing. She also reveals if there has been sex in space. Listen for the answer!
Vic Ferrari retired NYPD Detective reveals how the cops built a private pool for their own use at the beach.
June 10, 2018
A suicide? Anthony Bourdain, CNN Traveling Chef? Walter thinks it was not a suicide. retired NYPD Detective Vic Ferrari also thinks its suspicious.
SOS regular Julissa reveals that her BAKE YOUR BOOBIES event was delayed by issues with permits.
MUFON symposium Chairwoman Julie Stein reveals that there will be a major announcement about UFO's from the Gov't soon. Walter has many doubts.
ASBESTOS FALLS, summer series episode 2 "I didn't know flavor was so sticky."
MIDNITE MISFITS. Walter needs your vacation home for a week so he doesn't have to stay at the beach with his relatives.
June 3, 2018
THIS WEEK, Sterling on Sunday is proud to launch our SUMMER SERIES Scripted and produced by the remarkably gifted students at KSDB-FM college radio in Manhattan, Kansas.
How good could students in Kansas be? Wait till you hear it!
It joins the robust SOS menu of produced, original programming:
• The Usual Edition. NPR as we hear it.
• Toll Taker Tumble. Secret recordings of tall takers at work
• Beautiful people who get uglier the longer they speak.
• Secret recordings of vacation home landlords.
• Did they take all the trash? A suburban Drama.
• And the coveted, should be awarded, LESBIANS IN SPACE.
May 27, 2018
Memorial Day weekend is the primordial ooze of American Culture. It is the beginning of the summer holidays that are great if you're in a family but not great if you don't fit in. These are the invited holidays. You have to be invited to the BBQ, the club, the pool. There is nothing creepier than a man alone at a beach.
Walter explains why Italy and France do not declare war.
Midnite Misfits report. New codes are given for Midnite Misfit Decoder cards.
Gary R'Nel reveals a story about a business owner whose sign is so offensive the township demands he take it down. It just says that if you are fat and ugly, you can lose weight at his gym and just be ugly.
Walter reveals his core beliefs which includes the necessity of 24 hour room service.
May 20, 2018
THE ROYAL WEDDING…how does the prince get away with inviting both of his EX's. What was wrong with the front of her dress?  No bra?!  She needed a bra.
Reminders of resentments from your wedding! Walter shares his.
Next…our salute to the coverage of NPR and their fascination with Chuck Schumer. 
The solution to in school violence revealed by a 15 year old.
Companies that free the food are saluted! all at work food should be free!
May 13, 2018
Live from WLS Chicago
IT'S A FULL NIGHT OF CHICAGO!
Garry McCarthy reveals that Chicago pizza has its benefits—and he's a New Yorker. Former Chicago police superintendent and Newark police chief reveals why he wants to be Mayor of Chicago. Plus he has a hot wife.
Big John Howell morning man on WLS reveals his radio nightmare and it turns out it's the same as Walter's
 Cook County Commissioner Richard Boykin answers questions about how a poor kid escapes poverty—have PARENTS! It's not up to the State.
Next Walter asks listeners to donate their summer homes to him for a vacation that will include a live broadcast of the show from the summer house.
Pete Koconis is a 38 year retired Chicago policeman who tells great stories about Albinos!
May 6, 2018
Live from the Westwood One Laundry Room…
THE KENTUCKY DERBY…how Walter taught President Carter to bet on the Derby. What happened when Carter lost.  Derby day!
Eric Rhoads reveals how he switched from executive to artist and became rich. His new book shows anyone how to make money from their art.
Owner of Legacy Box explains the worst mistakes that are made when starting a business—don't give up!
The 15 year old wants a 10,000 dollar sweet 16…what to do?!
Walter discovers he's Catholic and not a WASP! Embarrassing misfit moments.
April 29, 2018
The Vanguard… Amazing that hundreds of women would join a sex cult that required them to eat 800 calories a day, be branded and call their leader VANGUARD. A schleppy guy from upstate New York. Walter doesn't think they are victims, he thinks they are idiots. Just LEAVE.
Drizzle on a sandwich? Walter wants MORE MAYO. Has trouble with women working behind the deli counter. How could a woman know how much mayo Walter wants on his sandwich?
Charlie Campsie a LYFT driver answers the question…have people had sex in your car and how much should you tip?
What constitutes cheating? Walter says only physical contact. He believes flirting on social media is not cheating but a complete waste of time and it's flirting with THE UNDEAD.
Larry Wachs reports that Michelle Obama is probably a man.
MIDITE MISFITS. When did you know you didn't fit in? Special report from Gary R'Nel on good things about being a Misfit.
The hell of being left handed…good luck with that three ring binder.
April 22, 2018
Free the Pee! Walter believes that all rest rooms in all stores and restaurants should be free. open to all. Where is the best public restroom? In the Paris subways.
Then he explains that the leading addiction in America is to peanut butter and he confesses to how he knew he crossed the line.
BONUS the Amazing Kreskin reveals that he only gets paid if he can find the check through telepathy. ASHLEY MADISON.com is still a thing. Over 15,000 cheaters register every day—more women than men.
How do you know if your partner is cheating?  NO HOMEWORK. There should be no homework given in school, it's your house! WIN POT FOR A YEAR…how much would you need? PLUS the theme to 64 zoo lane!!!!
April 8, 2018
Walter is back from the Westwood One Laundry Room from Philadelphia to Guam!
WALTER covers too much ground on this show: Learn how to make a great grilled cheese. Discover why humans could not have built the pyramids of Egypt. Hear the worst wedding behavior story ever. And why Mark Zuckerberg of Facebook should be fired. Attention celebrities, please stop apologizing!
April 1, 2018
Guest host Gary R'Nel discusses his mobile device addiction, corporal punishment in schools and his effort to increase employment in the fast food industry.
March 25, 2018
Live from the Westwood One Laundry Room from Philadelphia to Guam!
A 15 YEAR OLD public school student explains exactly what it feels like to go to high school knowing you might be shot. She also reveals why teachers should not be given guns and
how one simple act will stop the shootings in schools. One thing.
Plus Westwood One's Bob Constantini reports on the marches by high school students throughout the country.
March 18, 2018
HOW DO YOU DEAL WITH THE NEIGHBORS? Walter explores the challenge since he has just moved to a new house. He doesn't want neighbors at all. One neighbor has motion sensor giant prison lights on the side of the house that keep walter up all night. what do do. hilarious callers.
DOES ALEXA LISTEN TO YOU? Larry Wachs has all the details. we think YES.
Judge Judy interviews the stars of CALL ME BY YOUR NAME. Hilarity ensues.
Walter says we are entering a beehive culture, everyone has to please the queen bee. Married men have no role today and that makes them dangerous.
Hilarity ensues.
March 11, 2018
Personal scams. Walter reveals that he steals Splenda, crashed a funeral lunch and "needed extra time" boarding an airplane …getting on first.
Plus your Spring Break stories. Walter was too chicken to go to Spring break and his mother wouldn't have let him go anyway. Listeners share their stories with strippers and whores.
Monica Lewinsky says that the "DNA of the world changed in 1998." But she still hasn't apologized to Mrs. Clinton. Oh Well.
Jennifer Lawrence says she would butter up Timothee Chalamet and slaughter him like a pig. Seems like hypocrisy for a #metoo-er.
March 4, 2018
• Scary things that happened in your house before you moved in!
Walter was robbed six times because the last tenant was a drug dealer.
• OSCAR report. What did you wear on the red carpet?
Asked of reporters who just weren't actually there.
•
Study shows women are much worse at work to other women.
Walter has seen how bad women bosses are to women.
• CALLERS continue to reveal what they steal: SPLENDA hot item.
• CALL ME BY YOUR NAME special re-enactment.
•
B
ad rules at work. US Postal workers refuse to deliver mail to
February 25, 2018
Have you ever been evicted? Listeners share their horror stories. Walter reveals that he got an eviction notice last week because his landlord forgot to look at his bank account. Oh gee.
Next Ryan Wrecker of KMOX shares the wacky story of the Missouri governor being indicted for invasion of privacy. An indictment? Is that where the DA should focus their energy? Really? How about moving company scams?
Adam Peterson, age 21 explains how he could write a 350 page novel in one year and still go to college. THEN  Larry Wachs. from the SW Bunker explains that the Olympics should just go all out gay.  Then the Midnite Misfits discuss BAD BREAKROOM stories with Walter and Gary R'Nel. Free the food.
February 18, 2018
Doc Washburn of KARN Little Rock reveals what Sports Brackets are and BABE BRACKETS now the hot story in Little Rock.
TV women reporters are put in SPORTS BRACKETS by a local radio station and this has many in media all annoyed.
BLACK PANTHER is the hot movie this weekend. Walter explains why HOLLYWOOD EXECUTIVES are shocked that a movie featuring Africa and Africans is such a big hit.They were also shocked that a movie about empowered women was a hit—Wonder Woman.
JENNIFER ANNISTON is getting a divorce. Why would you divorce Jennifer Anniston? Walter says her dietary needs are probably overwhelming. A listener thinks because she probably smells bad.
Larry Wachs of the WACHS MOD CAST reveals that the flu is part of much larger conspiracy.
Who would you go-gay for? Which celebrity? Walter likes Taylor Hanson
February 11, 2018
Should women propose to men? HOT TREND. Walter says, yes they should and they should BUY the $25,000 ring and ask HIS mother for permission to marry.
LISTENER CHOICE: Cell Phone Hell. Listener got 3000 dollar bill, his daughter did it! Walter says APPLE should still pay it!
CALLERS continue to reveal what they steal: SPLENDA hot item.
ABBY LEE MILLER BEHIND BARS. Hear the secret recordings.
#QANON and #Thestorm. What do they mean? Larry Wachs explains all. REVELATIONS AT THE WAFFLE HOUSE.
NEW FEATURE: QUESTIONS FOR THE MOST BORING MAN IN THE WORLD
HAUNTED APPLIANCES killed the Father on THIS IS US and we discover a haunted toaster. Callers reveal haunted appliances.
Fresh,  original podcast OLD DAD SECRETS at iTunes and SPOTIFY. Not a show repeat.
February 4, 2018
David Mueller, the DJ who pinched Taylor Swift—but he didn't and his new boss Larry Fuss. Mueller starts his new job on a station in Mississippi this week. BUT Fuss has received such serious death threats he had to turn them over to homeland security.
Next, Jim Kelly reports from the Superbowl but then we realize!!! that he is not in Minneapolis but in his home in New Jersey. Jim shares with us his obsession with Stella beer and chips. When the Eagles win, we learn that there is noise in the streets of suburban Philadelphia.
Personal crime wave. What crimes do you commit on a daily basis? Walter reveals that he steals Splenda….from church kitchens.
Larry Wachs explains the Twitter Phenom: QAnon and #Thestorm. Walter explains that Nancy Pelosi looked like an ass this week.
January 28, 2018
This show features LARRY WACHS from our Southwest Bunker reporting on censored Twitter feeds that cover #qanon  and #thestorm. Unfortunately his report was blocked on the air by on air interference from a foreign power probably Russia. Our engineers are checking it out now. Report soon.
Next, what do you say to someone who just got a nose ring? Strange tattoos? How do you handle odd physical alterations? Walter says that no one looks better with a nose ring.
Our live report from Westwood One news covering the Grammys. Followed by Gary R'Nel on stupid Grammy speeches. Turns out, sadly that no one was really that stupid this year. Time will tell.
Darius Normal reveals that our economy is not better but our ability to go into debt is stronger than ever. Consumer debt ruins everything. He says that commercial banks are corrupt. Walter agrees.
EXCLUSIVE audio from faux Antiques Road show EAST ST. LOUIS EDITION. PLUS Killer appliances, STERLING ON SUNDAY review of THIS IS US.
Resentments towards relatives. Walter shares that his family is so cheap they won't help him pay for a move—instead hire a 100 dollar UHAUL advises one relative. Callers share their amazing family-trouble stories.
FREE THE FOOD campaign continues. Lack of food is the biggest challenge working the third shift. Fun for all.
January 21, 2018
Listen to Catherine Michael, Bureaucracy buster revealed that in public schools kids have been found with duct tape and thrown in dog cages.
CMichael@hzlegal.com  – She is with Catherine M. Michael is the head of the Hollingsworth & Zivitz Education Law Division.. Trouble with your kid's school, Catherine can help. Walter said that the parents of those 13 abused kids in California should be tried and sentenced in Iran, Iranians know how to handle criminals. Ray Gibson runs the STERLING ON SUNDAY affiliate in GUAM, he answer our GUAM questions such as why so many GUAM people are over-weight.   Richard Lustig has won state lotteries more times than any one. His secrets: No quick picks. Use the same numbers.
#thestorm and #QAnon are the hottest trending hashtags on Twitter and Larry Sachs files a special report from the Southeast Bureau on what they mean about our military and the future.
Very important: Follow @waltermsterling on Twitter.
James Muller, the only US native citizen to be extradited to another country to face a murder trial shares how he survived for 9 years in prison in Thailand for a crime he could NOT have committed. Here's his email: jmuller58@icloud.com
January 14,  2018
Walter is moving – his daughter doesn't like it.  And he doesn't like his treatment at the hands of the moving company.
He wants an investigation.  Waiter auditions are coming soon.  Larry Wachs brings us up to speed on Q Anon and The Storm.  Lindsay Lohan is snake bitten on vacation in Thailand.  Walter wants to know on vacation from what?  And tips on winning the lottery!
January 7,  2018
First full show of 2018 featuring the narrator of THE CURSE OF OAK ISLAND. Win a chance to have him voice your voice mail!  And William B Davis, Cancer Man on the X-FILES.  Larry Wachs fills us in on Q Anon and the calm before the storm.   Plus things that annoy you at work and a debate on the quality of prostitutes in Philadelphia.
December 31, 2017
Special New Year's Eve show featuring a look behind the scenes of the Walter Sterling Show.  Plus Antiques Roadshow, Newark Edition, Town Trash Removal Committee Meeting, and Lessons learned on "This is Us".
December 24, 2017
Special Christmas Eve/Christmas Morning show featuring talented story teller "Anna on the Bus".
December 17, 2017
Is Bitcoin a scam?  Walter says yes.  Ladies – do you have a secret stash of money that you keep from your husband? The travails of buying a Christmas tree.  Why are billion dollar companies cheaping out on Christmas parties?  And of course,  Lesbians in Space, Muslim edition.
December 10, 2017
RADIO'S GREAT STORYTELLERS!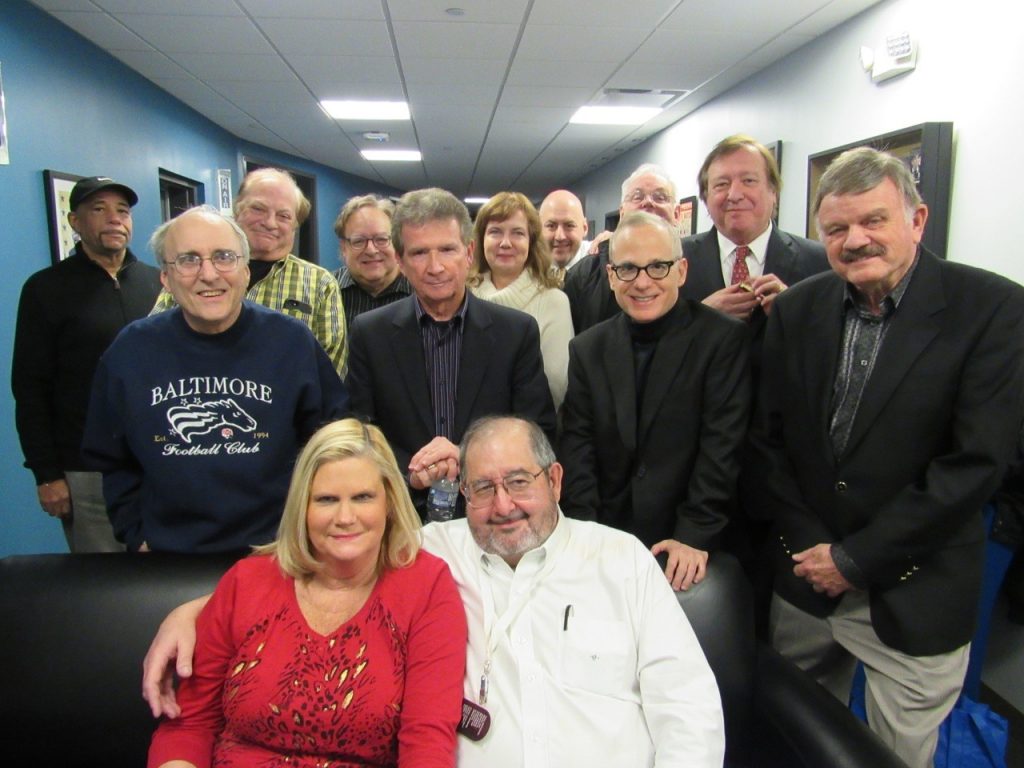 Walter M Sterling  host of the syndicated 'Sterling On Sunday, aired its special 'Radio Storyteller Series' last Sunday from the Entercom broadcast center in Philadelphia. Joining Sterling were (l-r) Douglas Henderson Jr, Michael Tearson, Denny Somach, Gary R'Nel, Tommy McCarthy, Rasa Kaye, AJ Essington, Lee Harris, Ross Brittain, host Walter Sterling and Allen Shaw. On the couch is Judy Anderson and Neil Pohl who had a major announcement: He asked her to marry him live on the air. She Said yes!
December 3, 2017
How to survive the company holiday party.    A woman who used to work in radio now owns a tree service. Paul Levin tells us why everyone deserves to be happy.   Antonia Hall speaks about her book, the Ultimate Guide to Multi-Orgasmic Life.  Walter wants to hear your most selfish Christmas wish.
November 26, 2017
Holiday travel media myth.  Would you give Christmas presents if polite society did not require it?   How hot are giant slot machines?  An expert clues us in.  Walter does not care for curbside pickup.  12 year old Meredith shares her opinion on visiting relatives for the holidays.  The cash call jackpot climbs for next week.
November 19, 2017
Special guests include WLS Legend Bob Sirott and Cleveland Radio Legend John Lanigan.  Sam Greenfield has advice for aspiring game show contestants.   And Walter finally gets a corporate email address.
November 12, 2017
The perils of sisters-in-law.  Finding jobs for vets with professional career advice.  How to get yourself suspended from your radio talk show.   And the secret life of Taylor Swift.
November 5, 2017
More lesbian wedding insider info.  Your parents would be arrested today for the things they did back in the day.  This week's featured out of work talk show host is Sam Greenfield.
October 29, 2017
Airport Horrors.  They can hear you when you are on hold.  Lesbian Weddings – which mom is in charge?  Legendary out of work talk show host Alex Bennett talks about his new platform.
October 22, 2017
Have you ever inserted yourself?  Careful what you say about Harvey.  And a special guest appearance by Casey Bartholemew.
October 15, 2017
Harvey Weinstein, Parent Teacher Night and an Amazing Story of Survival…